The free Echofon for Twitter Firefox add-on is an unobtrusive way to keep up on Twitter posts without a lot of distraction. Usually, Echofon's window is completely hidden; blue spot in the lower right of your browser represents the add-on. Clicking that spot brings up a small pop-up window that stays on top regardless of what page or tab you're on.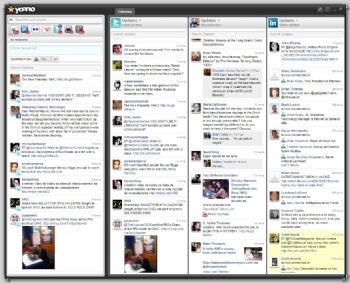 For the uninitiated: Twitter is social media that involves microblogging, or short posts about anything and everything. It's become the choice for people with short attention spans or little time for a blog of their own. Twitter has its own Web site, but some users prefer browser add-ons or standalone clients so they don't need a window open at all times.
One trade-off for Echofon's unobtrusiveness compared to, say, the enormous real-estate taken up by competitor Yoono, is that Echofon is somewhat feature-lite. You can view a single account at a time, and move between the Friends, Mentions, and Messages tabs. If you see a Web site you like and want to tweet the address, clicking the link icon will do that.
Doing anything more advanced, such as trying to view a Twitter poster's profile or clicking a conversation brings up Twitter's Web site to perform those functions directly in Twitter. Trending topics and search, along with newer Twitter features such as re-tweeting and lists, aren't supported at all. (You can do a manual re-tweet by right-clicking a Tweet and selecting re-tweet, but this simply automates the older "RT in front of the copied tweet" method and not Twitter's newer re-tweet function.) This is kind of clunky, as it'd be better for a browser add-on to have all currently Twitter functions built into it directly. The point is to avoid having to use the Web version at all.
There's no standalone PC app of Echofon to integrate with this browser add-on; currently Naan Studio only supports the iPhone and Mac as far as standalone apps. However, it's possible to link the browser add-on with your iPhone app so that unread Tweets are synchronized. The iPhone version in particular is all-inclusive, and can follow conversations and view profiles without the Web; it even has an integrated browser for viewing links.
Out of the three editions of Echofon, it seems as if the Firefox add-on is an afterthought, considering the missing features compared to the iPhone version. Still, it's unobtrusive and not very complicated, so light users of Twitter will prefer it. Power users might prefer the Yoono Firefox add-on instead.