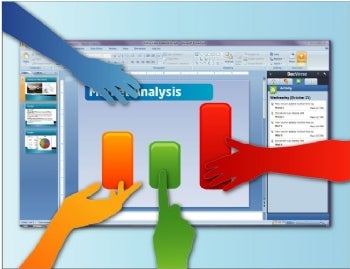 Google's got its head in the cloud–again. The search giant today announced that it has bought DocVerse, a software startup that makes an online collaboration plug-in for Microsoft Office. The Wall Street Journal reports that Google paid $25 million for the San Francisco-based developer, which was founded in 2007 by former Microsoft employees Shan Sinha and Alex DeNeui.
The DocVerse deal wraps up an acquisitive week for Google, which announced Monday that it gobbled up online photo-editing site Picnik.
Office, Meet Apps
So what are Google's intentions for its latest conquest? "Our first step will be to combine DocVerse with Google Apps to create a bridge between Microsoft Office and Google Apps," write DeNeui and Sinha in their DocVerse blog. Their plug-in currently allows MS Office users to work collaboratively on Excel, PowerPoint, and Word documents, even when they're offline.
If implemented correctly, DocVerse's Office-to-Apps bridge can help Google position its Apps communications and collaboration suite as a viable alternative to Microsoft products in the enterprise market. A collaborative tool that enables seamless (or at least pretty good) integration between the competitors' business apps could only serve to help Google and harm Microsoft, which has reigned over the enterprise market for years.
A Cloudy Outlook
The DocVerse acquisition fits nicely with Google's cloud-based view, and with the search company's not-so-subtle efforts to dethrone the desktop-centric MS Office.
"The future of productivity applications is in the cloud," blogs Google Apps group product manager Jonathan Rochelle. "But we recognize that many people are still accustomed to desktop software. So as we continue to improve Google Docs and Google Sites as rich collaboration tools, we're also making it easier for people to transition to the cloud, and interoperate with desktop applications like Microsoft Office," Rochelle writes.
Google recently added advanced data backup and recovery capabilities to all components of the Apps suite. It also introduced mobile device management tools for users of Google Apps Premier and Education Edition. Today's DocVerse announcement is yet another sign of Google's business-market play.
Microsoft, of course, is developing its own cloud-based strategy too. Its upcoming Office 2010, for instance, will feature numerous Web-based enhancements, including scaled-down online versions of core Office desktop apps.
Contact Jeff Bertolucci via Twitter (@jbertolucci) or at jbertolucci.blogspot.com.