Apple is pitching its new iPad tablet as a multi-use consumer device, a superior alternative to clunky netbooks and laptops. Admittedly, the device does have its virtues, particularly for Web-surfing couch potatoes who'd rather not balance a clamshell-style portable PC on their laps.
But there's one area where the iPad won't succeed: movies. In Apple's iPad promo video, Phil Schiller, the company's senior vice president of worldwide product marketing, calls the tablet "the best . . . movie-watching experience."
Not a chance. In fact, from an ergonomic perspective, the iPad is a lousy movie-watching device.
In the iPad video, we see a person lounging in a comfy chair, iPad nestled on his/her crotch, watching Star Trek.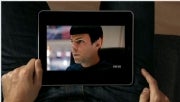 Now, this particular position may be fine for, say, a five-minute YouTube clip or maybe even a 22-minute sitcom, but not for a two-hour feature film. You'd have to cradle, grasp, or find some other way to prop up the iPad for a lengthy period. In this scenario, you've become the iPad's stand, and that's no fun.
Sure, you could always sit up, change positions, switch hands, and so on. Or you could buy the optional iPad stand and place the device on a coffee table. But if that's your solution, why not simply watch movies on a laptop instead? After all, a $500 Windows notebook typically comes with a 15-inch display, which is much larger than the iPad's 9.7-inch screen. (For you Apple devotees, the MacBook, with a 13-inch display, starts at $1000.)
Of course, the iPad isn't a laptop, nor is it intended to be. It may do some things better than a laptop — although we won't know exactly what until it ships — but movie-watching isn't one of them.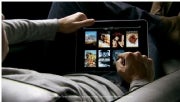 Like to watch movies on airplanes? A small laptop is the better choice. It rests comfortably on the meal tray and doesn't require any holding or cradling.
With the iPad, however, you'll need to hold the tablet one hand while munching on salted pretzels with the other. Or you could do that crotch-positioning trick, like in the Apple video.
Either way, I'd rather watch movies on my laptop — provided there isn't an HDTV nearby.
Contact Jeff Bertolucci via Twitter (@jbertolucci ) or at jbertolucci.blogspot.com .