AT&T may have opened its arms to Android with the release of Motorola's Backflip, but it isn't exactly embracing the platform's open nature.
The Motorola Backflip, officially available on AT&T as of Sunday, marks AT&T's first foray into Android territory. Featuring a unique back-flipping QWERTY keypad and back-of-display touchpad, the Backflip has a form factor unlike most Android phones. But it also has some software differences that set it apart — and not in a good way.
Motorola Backflip: Android, Minus the Openness
Much of Android's appeal stems from its open and highly customizable nature: Compared to Apple's notoriously closed approach, Google's operating system allows you to install any applications you want without needing your manufacturer's blessing. This is a core principle of what makes Android what it is; in many ways, it's the anti-iPhone.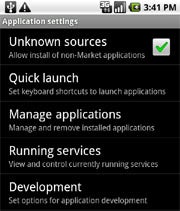 The Motorola Backflip, however, seems to take a step back from this concept. The option to install unofficial applications — that is, apps found outside of the official Android Market — is mysteriously missing from the device; the "Unknown sources" setting is simply not present on the "Applications" menu, where it'd normally be found. After seeing this mentioned at an Android developer forum this afternoon, I was able to confirm it directly with a Backflip demo unit. The Backflip's "Applications" menu has only four lines instead of the typical five.
(There is a backdoor way you can install unofficial apps without the standard menu-driven option, but it's a relatively complex process involving the Android software development kit. Most casual users aren't going to be aware of it and likely wouldn't want to mess with it.)
In addition to the external app restrictions, AT&T has preloaded the Backflip with a dozen of its own apps that can't be removed without using that same backdoor hack.
AT&T's Backflip Restrictions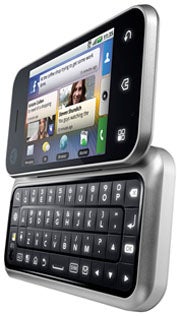 Why the Backflip restricts the full Android experience isn't completely clear. AT&T representatives were unable to elaborate on the situation, and Motorola's reps weren't immediately able to provide an answer. Google's Android team told me that since the Backflip isn't actually a Google-branded product, they wouldn't be able to provide any insight into the software modification decisions.
Thankfully, Motorola's official support forums offer a couple of clues. Someone posted a message Monday morning asking about the missing non-Market app setting in the Backflip device. A user whose account was labeled as a "MOTO XPRT" responded with the following message:
"This is a known issue, and I will report back when I find something out."
Several hours later, he followed up with this:
"Looks like AT&T turned it off. Don't know what to say about that…"
And shortly thereafter:
"Not going into pointing fingers here, but all other current Moto Android phones (Droid – VZW, Cliq – Tmo, Devour – VZW) have this feature installed."
One logical theory is that the move could be designed to limit the use of apps that allow tethering, something AT&T has long frowned upon with Apple's mobile technology. While limited tethering options do exist within the official Android Market, AT&T could conceivably place restrictions on those downloads. The numerous tethering options available outside of the Android Market, however, would be completely out of AT&T's control.
Control is something we typically discuss when looking at Apple's mobile products. It's a damn shame to see Android being tainted with that same restrictive mindset.
JR Raphael is a PCWorld contributing editor and, according to a quiz he recently took, a partial Android fanboy. He's on Facebook; come say hello.