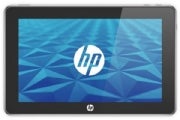 What will HP's Slate Tablet have that Apple's iPad won't? It's Adobe Flash, a key Internet technology that HP is touting as the key difference between the two platforms. And, HP is right, though how Flash support will translate into sales remains to be seen.
While Apple has its App Store to provide applications for iPad users and iTunes for content, Flash gives HP users access to Web content and apps that iPad users can only dream of. Adobe's AIR provides a framework for developing applications for the HP Slate tablet and other devices that iPad also will not support.
HP has posted two new videos that use Flash and AIR support to take aim at the iPad ahead of its April 3 release.
The videos, demonstrating HP's likewise forthcoming (but not-as-soon) tablet, show how the Slate "will access the full web, and just a part of it," according to Adobe's Alan Tam, who does a four-minute demonstration of Adobe Flash and AIR running on the Slate in one of the videos.
HP introduced the Windows 7-based Slate in January at the Consumer Electronics Show, but has not announced a ship date besides "mid-2010." The device, to be priced "below $500" was considered underwhelming at the time of its introduction.
Support for Adobe technology and the use of Windows 7 are key differentiators between the HP Slate and Apple's iPad, which runs a tablet-optimized version of the iPhone operating system. The Slate and other Windows 7 devices support Adobe Flash and AIR, Apple's iPhone, iPod Touch, and iPad, do not.
HP's Adobe support is generally considered a win, while its use of Windows 7 has proven controversial among those who believe a general purpose operating system is not the best choice for a tablet.
Both videos were posted Monday to HP's Voodoo blog.
Tam's Slate demonstration shows Flash streaming video running from within a Web site, without the use of an external player; casual Flash-based games; and Photoshop.com web-based photo editing.
He also demonstrated Adobe Air, which allows Adobe Flash applications to run outside of the browser. These included Pandora, a popular music service, and the New York Times Company's e-reader application, which also offers the paper's interactive crossword puzzles.
Apple's lack of Flash support on its iPhone, iPod, and now iPad devices, is controversial. It also dramatically limits their browsing options. Tam said that of the top 100 Web sites, as ranked by Alexa, 85 percent use Flash content. Three-quarters of Web video exists in Flash, Tam added.
"With this slate product, you're getting a full Web browsing experience in the palm of your hand. No watered-down Internet, no sacrifices," wrote Phil McKinney, VP and CTO of HP's Personal Systems Group. "We just posted a quick video showing some more of what that's like as well as how the slate device will work as an eBook reader. Enjoy the short clip (and the techno soundtrack)."
Quick only in the sense of its running time, the first video is a 30-second produced television commercial–complete with the de rigueur techno music–that shows the Slate in action. The second video, Tam's demonstration, is only a tad less slick, but runs more than five minutes in length.
My take: As an iPhone user, I'd never really thought much about what the lack of Adobe Flash support meant to me. On a smartphone, Flash would be nice, but Apple provides a very decent user experience without it. If I used the iPhone for more Web browsing, I am sure the lack of Flash would be more apparent.
As for the Slate being a disappointment at CES, I think that was only in the shadow of the iPad hypestorm. Now that we have a better idea of what the iPad is–and isn't–the Slate looks better in comparison.
Seeing Alan Tam's demonstration of Flash and AIR on the Slate made me rethink any plans I might have had about purchasing an iPad. It also made me think that in the tradition of the iPhone, the iPad will be aimed primarily at an Apple-provided (and controlled) media experience.
The HP Slate, true to its Windows roots, will be more about generalized Web browsing, including Flash, and running Windows 7 tablet apps. While I love my iPhone, I found Tam's demo much more compelling than what Apple has shown of the iPad thus far.
It may be that the iPhone experience will have trouble scaling up to user expectations of a larger-screen device. Windows 7, meanwhile, may have trouble appearing to be truly optimized for a tablet. While both the HP Slate and Apple iPad will offer much the same functionality, the user experience appears very different.
It is hard to bet against Apple on small devices, but these new videos have gotten me started thinking about the differences between the iPad and HP Slate in a different way. Maybe a Windows 7 tablet won't be bad at all.
David Coursey has been writing about technology products and companies for more than 25 years. He tweets as @techinciter and may be contacted via his Web site.