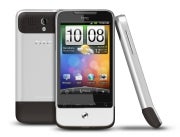 Apple is already reaping the benefits of its patent infringement lawsuit against HTC, according to one analyst.
Oppenheimer's Yair Reiner said in a note to his clients that Apple's lawsuit, combined with high-level discussions, have caused top-tier smartphone makers to send their device plans back to engineering, Fortune's Brainstorm Tech reports. They're scrambling for workarounds that won't incur Apple's wrath.
Handset makers are also having doubts about using Google's Android operating system as a cheap and easy way to compete with the iPhone, Reiner said.
This isn't an entirely new scenario. As Reiner points out, Apple Chief Operating Officer Tim Cook sent a stern warning in January 2009 that "we will not stand for having our IP ripped off and we'll use whatever weapons we have at our disposal." His words were widely interpreted as pertaining to multi-touch, which is why you didn't see many phones supporting the technology last year save for the Palm Pre. But then came the the Droid Eris and Google's Nexus One. Apple's threats were being ignored.
Hence the new discussions with phone makers and the lawsuit against HTC, which some pundits and analysts, including Reiner, believe is just a proxy war against Google and Android. It's a strong enough offensive to make Android suffer.
The irony is that while Apple may be winning against the rising star of smartphones, handset makers may instead seek shelter with Microsoft and Windows Phone 7 Series. Microsoft is using the opportunity to woo handset makers with "the strength of its own IP portfolio, as well as its willingness to join battle with customers that come under IP attack."
Still, it's too early to tell whether WinPho7 will be good enough for Microsoft to get its mobile groove back. Meanwhile, there are several ways the Apple vs. HTC lawsuit could pan out for Android-based phones, but Apple's reported scare tactics have at least scored the company a temporary victory against its biggest threat.