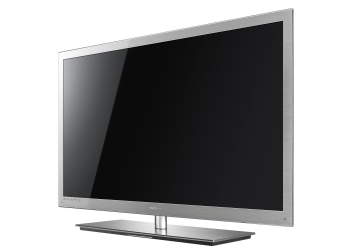 Samsung on Tuesday introduced new 3D home entertainment devices and said it is researching new 3D technologies while finding new ways to deliver 3D movies to TVs.
Samsung rolled out new devices including 3D TVs with screen sizes from 19 inches to 65 inches. The TVs, announced at an event in New York, will play back 3D content while providing the option to play back 2D content. The TVs will be available worldwide.
A basic 3D model — the UN40C7000 with a 40-inch screen — is priced at US$1,999 with availability in May. The most expensive model — a 55-inch UN55C9000 — is priced at $6,999 with availability in April. The pricing relates to the slimness of the TVs — the C7000 Series measures about an inch thick, while the LED C9000 series is 0.3 inches thick. Samsung uses the term "LED" TVs to describe its ultra-slim TVs, which are LCD (liquid crystal display) panels with LED (light-emitting diode) backlighting.
There is growing interest in watching 3D content on TVs, said Dan Schinasi, senior marketing manager at Samsung Electronics. People love to watch 3D movies in theaters, and would like to bring that experience to TVs, he said. The company is trying to stream movies to 3D TVs, while also researching autostereoscopic technology to improve the 3D viewing experience.
Samsung is working with online movie providers to stream 3D movies from the Internet to television sets, Schinasi said. He declined to provide the names of service providers, but said that 3D movies may start streaming as early as the fourth quarter. Users will be able to launch an application on the TV through which a movie and provider can be selected. Online movie rental services like Netflix can already stream movies directly to some Samsung TVs.
More 3D movies will make it to theaters this year, which will ultimately trickle down for streaming to TV screens, Schinasi said.
Samsung is also working with cable providers and satellite providers like DirecTV on 3D content. A number of other consumer electronics companies are also putting their weight behind 3D. Sony will be broadcasting the 2010 FIFA World Cup in 3D this year and has already launched a Blu-ray 3D player. A major 3D home theater announcement is expected from Panasonic this week.
3D will ultimately come down to how users adapt to it. Watching 3D programs at home may be reserved for special occasions like watching movies or sports events, Schinasi said. An average viewer may watch TV for up to eight hours a day, and keeping the glasses on for that long may be uncomfortable.
To tackle that, the company is researching autostereoscopic technology that it may ultimately bring to 3D TVs, Schinasi said. The technology could reduce the need for glasses to watch 3D programs, but the technology is in its infancy, Schinasi said.
The autostereoscopic technology involves adding a lenticular lens that provides a 3D effect from different angles depending on a viewer's position. Adding an extra lens to the 3D screen however could degrade image quality and add to the cost of a TV.
Current autostereoscopic lenses may also not generate 3D images from different angles, so users have to stand in particular spots to view true 3D images. Samsung will continue to research the technology, and Schinasi predicted autostereoscopic 3D TVs to reach the market in four to five years.
The company also launched eight plasma TVs of which six can play back 3D content. The 3D plasma models range in size between 50 inches and 63 inches with prices starting at $1,799. The TVs will become available in May. Samsung also announced a range of new home electronics, including a Blu-ray 3D player and home entertainment system.