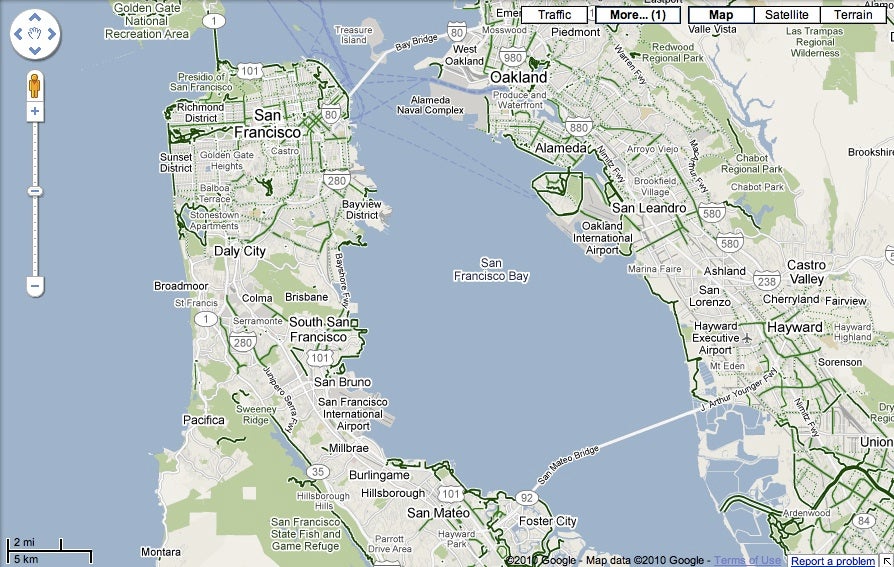 Google on Wednesday launched bicycle directions for Google Maps making it easier for cyclists to plan routes in 150 U.S. cities including Boston, Chicago, Los Angeles, New York, San Francisco, Portland and Washington, DC. You can use Google Maps to find cycling-specific directions in urban areas, and by default Google Maps will plan your route to avoid steep hills whenever possible. The new maps feature can also be used as a map layer to get an overall sense of cycling accessibility in a particular city.
(Click any image to zoom)
Getting The Map
There are two ways you can use Google Maps cycling information: for step-by-step directions or as a map layer to view all available cycling lanes and paths in your city. To get directions just click on the get directions link in Google Maps, enter your starting and ending points and then select 'bicycling' from the drop down menu. This will automatically start the cycling map layer and a variety of routes will appear in the left-hand column.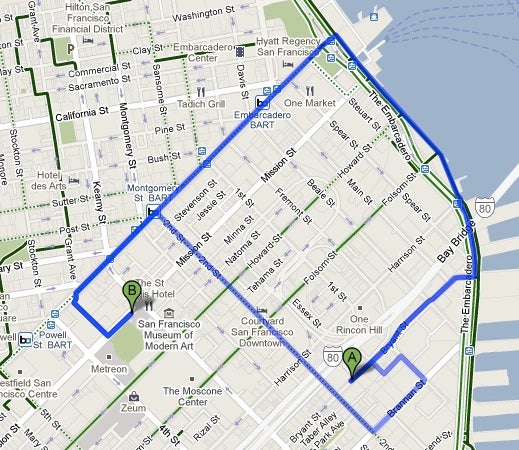 To compare the different routes, just hover your mouse over each route choice, and a light blue line will appear on the map showing you the difference between the selected route and the alternatives. If you don't like any of the route choices Google has made, you can drag the route indicator to change it.
If you just want to take a look at the cycling routes in your area select 'Bicycling' from the maps layer button labeled 'More…' in the top right corner of Google Maps.
Color Codes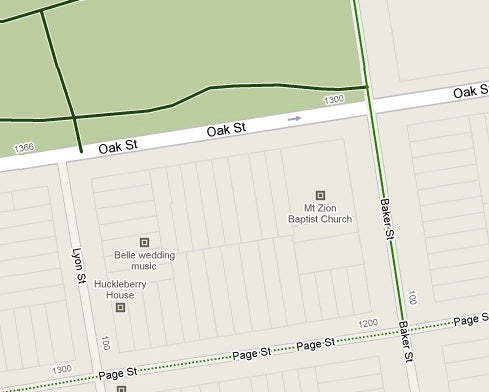 There are three different levels of cycling route indicators in Google Maps: a dark green line indicates a bike path with no motor vehicles, the light green line shows regular streets with bike lanes, and the dotted green lines show other recommended streets for cyclists–typically low traffic streets.
Cycling directions are a great addition to Google Maps, and one of the most requested feature additions, according to Google. But the new feature could stand with a few improvements, such as a difficulty level indicator for cycling routes. By default, Google gives you the easiest routes possible to get you to your destination, but this feature ignores a large number of cyclists who seek out difficult and challenging routes. A tool that allows cyclists to create different routes based on inclines would likely be a welcome addition to the new Google Maps layer.
If you want to try out Google Maps cycling directions for yourself check it out at maps.google.com/biking. But keep in mind the new feature is still in beta so you may run into problems with some routes. If you want to contribute to the new Google Maps layer by reporting missed bike lanes, better directions or other problems click on the 'Report a problem' link in Google Maps. Google says that eventually you will be able to directly contribute to improving maps for bike trails and lanes in your area through Google Map Maker. Currently, bicycle directions in Google Maps are available for U.S. cities only.
Introduction to Bike Directions on Google Maps :
Connect with Ian on Twitter (@ianpaul) or on Google Buzz.