With Google Apps Marketplace, a store for third-party cloud-based business applications that will supplement Google's own apps, there's just no escaping Google these days.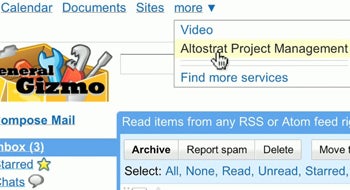 Just as mobile phone app stores increase the usefulness of smartphones, the Apps Marketplace makes Google Apps more attractive to businesses. What can now be accomplished with Google Apps is limited only by the imagination of third-party developers (and the $100 listing fee Google charges them). If your business takes up Google Apps, or is among the 2 million businesses that already have, it's conceivable that you'll use Google services for everything you do.
The third-party apps Google introduced yesterday include a payroll service from Intuit, eSignature software from EchoSign, and a Web conferencing tool from DimDim. More than 50 companies are now selling apps in the marketplace.
Many of these services already existed before, but now Google gets to put its fingerprints all over them. Administrators can allow the apps to sync with Gmail contacts or Google Calendar, and can manage all the software within a single Google Apps control panel. Using OpenID, employees can access all the apps with a single sign-in and jump to any of them from within Google's dashboard.
To put it another way, the cloud applications you may already be using can now be joined together under Google's umbrella. At home, perhaps you use Google Search, Mail, Maps, Calendar, and Docs, and watch videos on YouTube through the Chrome Web browser. Now there's even greater chance Google will own much of your work life as well.
The reason, of course, is because these services are useful, making life easier. Give Google credit where it's due. It's just a little freaky.