Google can't seem to let a week go by without launching a new product, or introducing a new service. The latest announcement from Google is the Google Apps Marketplace–launched yesterday with over 50 third-party partners contributing unique add-ons and functionality that extend the value of Google Apps.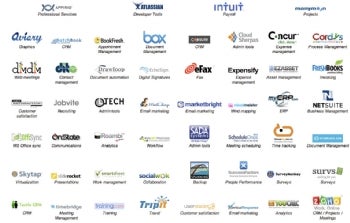 The Google Apps Marketplace has some immediate and obvious benefits for Google. Google Apps, as capable as it may be, does not match the functionality and flexibility provided by Microsoft Office. By leveraging third-party solutions, but integrating them into the Google Apps infrastructure, Google instantly expanded the potential of what Google Apps can be.
Let's look beyond Google, though, and examine the benefits the Google Apps Marketplace provides for other parties.
Google Apps Administrators
Spencer Chen, director of communications for Memeo–one of the partners involved in the Google Apps Marketplace launch, explained via e-mail that the Google Apps Marketplace offers excellent advantages for Google Apps administrators. "Starting today, a company's domain administrator can very easily procure, configure, and deploy third-party services all from a central destination–the Google Apps Marketplace."
Chen continued "Previously, they had to search through the Web on their own, or peruse through the old Google Solutions Marketplace to find third-party apps…which–let's face it…was like a flea market."
David Barrett, CEO of Expensify–another Google Apps Marketplace partner, also responded via e-mail. "Google Apps is a free (or near-free), reliable infrastructure for any small to medium business' core Internet needs. Google Apps Marketplace builds atop this by adding third-party applications. This extends the single sign-on, universal navigation, and centralized billing and administration benefits of Google Apps to an even larger set of the company's infrastructure."
Google Apps Users
Google Apps users get simple, one-stop-shopping access to whichever Google Apps Marketplace apps their Google Apps administrator has added or configured. Users still log in to Google Apps as they always have, but now the features and functionality will be extended according to what the administrator has configured.
Memeo's Chen described the end-user experience. "Once their IT department adds the new service to their respective domain, the new service will show up as a universal navigation link. From there, the users simply have to click on it to access the new service. Easy."
Google Apps Marketplace Partners
Expensify's Barrett discussed some of the obstacles faced by smaller companies trying to reach the SMB market and provide services or applications from the cloud. "The SMB market is huge, but hugely fragmented. To thrive in this market you need a very scalable, very cost effective way to get the word out."
Opportunities to leverage the reach and reputation of respected cloud-based providers like Intuit, Salesforce.com, and now Google by participating in targeted online markets such as the Google Apps Marketplace opens doors that would be difficult for companies such as Expensify to get through on its own.
Barrett clarified "IT managers are particularly "high leverage" leads because they don't merely sign up one user at a time, but actually sign up entire companies. Accordingly, Google Apps Marketplace is poised to be a very substantial supplier of high-quality leads to companies selling into the SMB space, and its 20 percent revenue share is a very reasonable price of entry."
Due Diligence
Services linked to Google Apps through the Google Apps Marketplace may expose sensitive information to the third-party provider. Chen explained "Newly added services can access your data from your Google Apps account. So, the thing that customers have to be mindful of is the trustworthiness and viability of that third-party vendor."
Chen cautions Google Apps users–but particularly Google Apps administrators, to exercise some due diligence and an ounce of cautious skepticism. "The process makes it so seamless now, customers may be forgetting about this finer point."
The Google Apps Marketplace may not put Google Apps on even ground with Microsoft Office, but it definitely extends the functionality of Google Apps and provides a more comprehensive and flexible platform for customers. All in all, it seems to be a win-win-win for Google, the third-party Google Apps Marketplace partners, and Google Apps customers.
Tony Bradley is co-author of Unified Communications for Dummies . He tweets as @Tony_BradleyPCW . You can follow him on his Facebook page , or contact him by email at tony_bradley@pcworld.com .