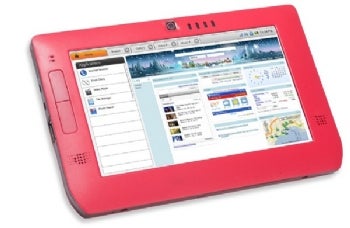 $200 tablet PCs have been something of a pipe dream. There was the Crunchpad, which was supposed to be $200, but that didn't last very long, coming out as the $400 Joo Joo. If what Freescale showed off at Mobile World Congress becomes reality, though, the dream may finally come true.
What Freescale announced, and demoed in the video below, is the i.MX51. It is a 7-inch tablet that comes in multiple colors, and can run three different operating systems: Android, Chromium OS, or Linux. The demo tablet is used with a keyboard and mouse, but touch features exists as well – The Chrome Source reports that there was another demo tablet running a capacitive touch version of Linux.
There are some incredibly exciting things in this demo, and in the prototype from Freescale. First is the price: At $200, much can be forgiven in the way of beauty and interface perfection (in which Apple can't really be beaten). The choice between keyboard and mouse input and touch input is excellent as well, giving users a choice the iPad will not. Plus, it's got all the ports, inputs and connectors that geeks love and the iPad forgoes.
It can't touch the form factor of the iPad or some other tablet devices, but a $200 device that runs the open source Linux, Android or Chrome operating systems might just find a place in the already-crowded tablet world.
[via Tom's Hardware]
Follow GeekTech on Twitter or Facebook.