Intel unveiled its newest flagship processor for the desktop market, the Core i7 980x Extreme. The CPU pushes the envelope by including six physical cores, and hyperthreading technology to virtualize twelve cores–its almost like having twelve computers in one.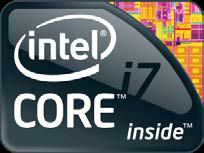 More cores, faster clock speeds, larger internal cache, and other processor attributes that typically mark the evolution of processor technology are all generally good things. It's hard to argue with the value of bigger, faster, better, more. However, IT administrators don't need to rush out to jump on the six-core bandwagon. Only certain niche businesses will see any immediate benefit.
The fact is that, for most uses at least, the processor is not the bottleneck. This is particularly true for systems that already have dual or quad-core processors. The Core i7 975 Extreme, the quad-core processor that was Intel's previous flagship CPU for desktops, matches the new Core i7 980x with a 3.3GHz core frequency, 3.6GHz turbo boost frequency, triple-channel DDR3 memory controller, as well as a 130-watt TDP.
The main differences between the two processors is that the Core i7 980x has six physical cores as opposed to the four cores in the Core i7 975x, and that the Core i7 980x has a 12Mb cache rather than the 8Mb cache of its predecessor.
Those six cores, or twelve cores once they're virtualized with Intel's hyperthreading technology, won't do much good, though, in most cases. While Intel and AMD continue to push the processor envelope and evolving technology to higher performance standards, most software development has not kept up. That means that most applications are not designed to take advantage of multi-core or hyperthreaded processors. Without software designed to optimize the hardware, the performance return is almost negligible.
That said–there are some applications which are optimized for multi-core systems and will benefit handsomely from an investment in the new six-core technology. Businesses focused on photo processing, video editing, or 3D modeling will enjoy a performance boost because the core software used for those tasks–things like Adobe Photoshop, or Blender–are optimized to take advantage of the additional processing threads.
There is some good news for all, though. The Core i7 980x is an LGA 1366 socket processor, and is capable of running on existing X58 Express chipset motherboards (after a simple BIOS update), so it is possible to make use of the new processor without having to upgrade or replace other hardware in the system.
With the exception of the high-end processing tasks mentioned above, most businesses will have little to no reason to upgrade to the new processor. However, Intel is offering it for the same $999 price tag as the Core i7 975x, and–since it is compatible with existing motherboard hardware–it would be silly to not purchase the newer, more powerful processor if you happen to be in the market for an upgrade.
Tony Bradley is co-author of Unified Communications for Dummies . He tweets as @Tony_BradleyPCW . You can follow him on his Facebook page , or contact him by email at tony_bradley@pcworld.com .