If you like bloatware, you'll love the idea of Motorola pre-loading Bing services onto its Android phones in China. Otherwise, pray that the partnership between Motorola and Microsoft never comes stateside.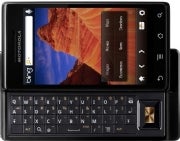 Motorola announced that the partnership will "initially be available in China" this quarter, under the guise of providing consumers with a choice. Christy Wyatt, Motorola's corporate vice president of software and services, said that "consumer choice is one of the most critical components to ensuring a rich and seamless client experience."
I agree, but this deal is does not represent choice. Users will automatically get Bing's search widget, a Bing bookmark in their Web browser and Bing's location-based services, including maps, whether they like it or not. If these were options presented to the user during the phone's first start-up, it'd be a choice. Instead, it's just a business deal to send more people to Microsoft instead of Google. Let's not make it out to be a boon for consumers.
Motorola doesn't say whether you can remove any of the Bing services, but the Android experience is muddied either way. Forcing a Bing widget onto an Android phone is like getting a mandatory Bing toolbar in Google Chrome. Technically, you have the "choice" of using either one, but at the cost of a more streamlined browser. And you could have just gone into your settings and changed the default search engine to begin with.
It's possible, as DigitalTrends points out, that Motorola is hedging its bets in light of the friction between Google and the Chinese government. But this isn't the only instance where Google services have taken a backseat on Android. We've already seen this with the Motorola Backflip, which AT&T has stuffed with Yahoo search and its own unique blend of bloatware. And that's happening in the United States, not China.
My concern is that cell phone makers and wireless carriers will start loading up Android phones with whatever they please to serve their own interests, not those of their consumers.