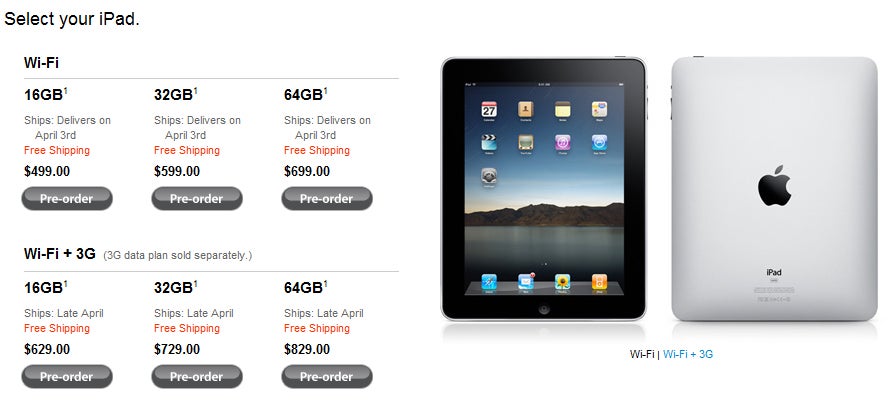 Apple began taking pre-orders Friday for the iPad. Just like clockwork, the Apple Store opened at 8:30 a.m. ET and began selling the iPad. Interestingly, Apple limits people to a maximum of two iPads per pre-order (sorry, want-to-be iPad hoarder). As of this writing the iPad pre-order portion of the Apple Store site was not suffering from any crush of traffic.
But before you fork over your credit card number to Apple you may want to consider a few things. Sure, the iPad may be a perfect match for digital life, but then again buying anything sight unseen can lead to a nasty case of buyer's remorse.
If you are ready to take the plunge, head over to Apple's Web site and be one of the first to buy the iPad. If you're not an impulse buyer, read on.
3G or Not 3G
You can pre-order both connectivity versions of the iPad today–Wi-Fi only or Wi-Fi + 3G–but it's not clear yet when the 3G model will start shipping. The Wi-Fi only device starts shipping on April 3, and Apple says the Wi-Fi + 3G version will be available in late April. So if you pre-order the 3G version, you'll have to wait a little longer than the Wi-Fi only folks to get your device.
Pricing
There's also the price consideration. The second iPad model will probably be priced lower than the current price range of $499-$829 (depending on storage and connectivity options). Apple famously dropped the price of the original iPhone by $200 just months after it debuted, and Apple has already hinted the iPad price could drop depending on initial sales. Granted, it's fun to be an early adopter and be one of the few people who own the latest gadget, but as the saying goes, "good things come to those who wait."
3G Carriers
If you want to get the 3G iPad there are a few things you need to consider. The Wi-Fi + 3G iPad is an unlocked GSM device, meaning you could, at least in theory, use any 3G carrier in the world. The problem is the iPad does not support the 1700 MHz 3G frequency, which–as far as I can tell–is what T-Mobile USA uses for 3G.
So for the moment, AT&T looks like your only choice for 3G connectivity on the iPad, which may leave some of you dissatisfied. A&T's CEO Randall Stephenson was recently quoted as saying he believed the iPad would be a "Wi-Fi driven device," predicting that most people would not be using the iPad over a 3G network.
That's a big bet to be making. There are many complaints about the AT&T network being crippled by the high volume of iPhone users, so it's a little troubling if AT&T isn't getting itself ready for an influx of even more powerful devices to hit its network. Then again, AT&T is planning to spend $2 billion this year to bulk up its data network, so it could be ready for an onslaught of 3G-ready iPads later this year.
Verizon, however, is reportedly touting an alternative where you could use a 3G-based mobile Wi-Fi hotspot to get mobile connectivity on any version of the iPad. Of course, that will cost you extra since AT&T is supposed to be offering unlimited data connectivity on the iPad for $30 a month, while Verizon's mobile hotspot, the Mi-Fi, starts at $60 a month.
How will you use it?
If you plan on using the iPad as a newsreader at the breakfast table, or to catch a movie on your next flight, then there's not much holding you back from the iPad today. But if you're interested in using the iPad with its peripheral devices, specifically the physical keyboard, then you may want to test out the iPad at your local Apple Store before buying.
If you're a particularly physical typist who likes to bang away at your keyboard, you'll want to see how the iPad-keyboard combo holds up under real-life stress tests. Does the iPad screen shake too much when you're typing? Do you like how the keyboard feels? Will the device be a practical solution for the things you want to do with it? The only way to know for sure is to wait, and try out the device in person. You can't do that until April 3.
iPad 2.0
There are always risks to early adoption of any technology product, and it's likely Apple will launch a new iPad model sometime next year. If you're not in a rush to get Apple's new wonder device, it might be worth passing up the first version of the iPad. I still can't believe, for example, that the iPad is coming without a Webcam. I realize a lot of people disagree with this, but video chat just feels like it would be a natural use for Apple's new device. I would not be at all surprised if the second version of the iPad included this feature.
So what do you say? Do you plan on pre-ordering today, or are you holding back to see what happens first?
Connect with Ian on Twitter (@ianpaul) or on Google Buzz.
iPad (2010)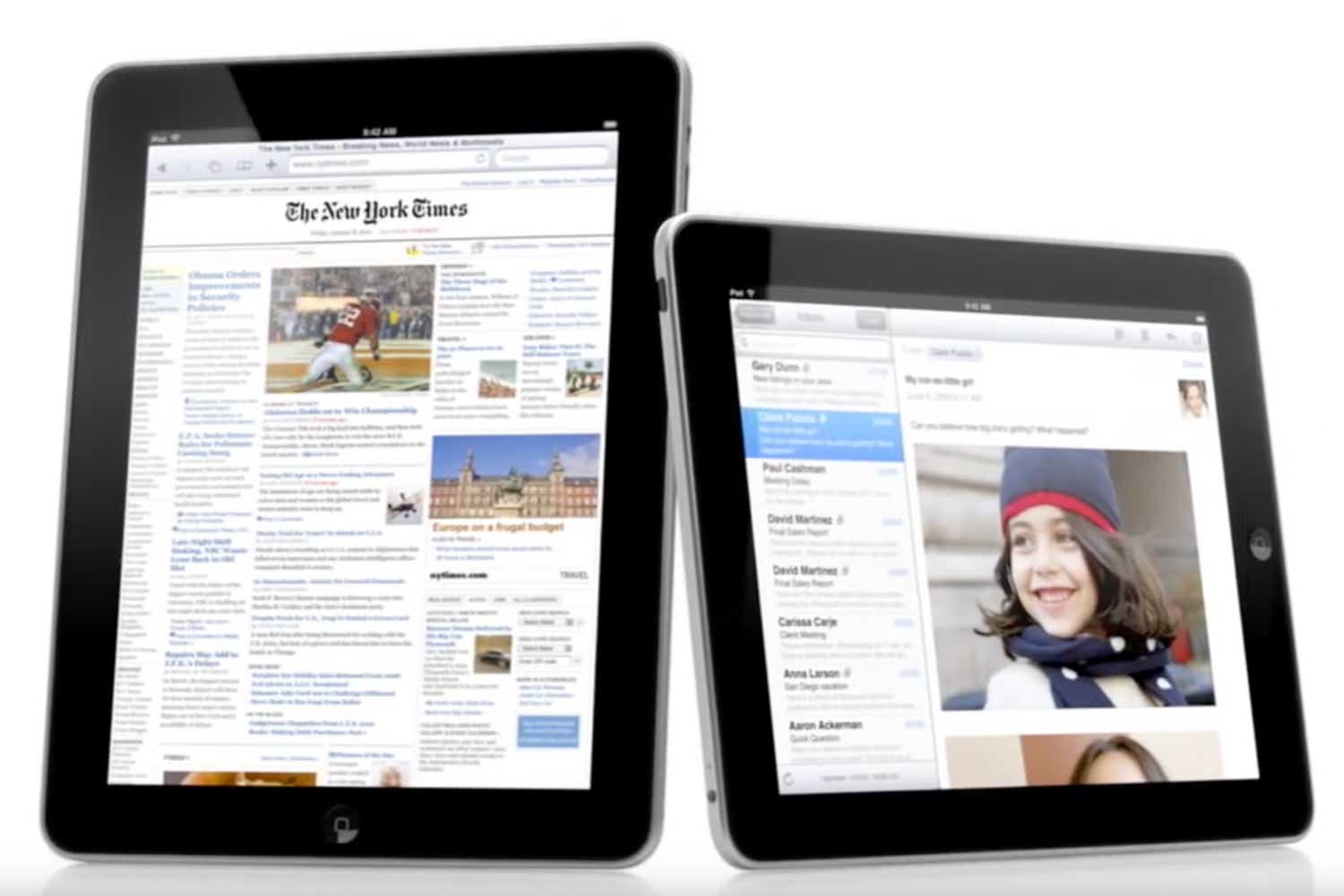 Read our full
iPad (2010) review