Barnes & Noble says it will launch an iPad version of its eReader app, in anticipation of the release of Apple's device on April 3. The app will compete with Apple's own iBook store for e-books, and Amazon could jump on boa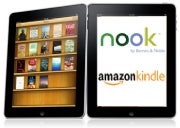 rd any time now.
E-books on the iPad have been the subject of heated debate between publishers and retailers, even before the tablet has actually went on sale. But with iPad pre-orders starting on Friday, retailers are lining up to sell their e-books on the device.
Barnes & Noble was the first to announce its entry on the iPad on Thursday, saying that its upcoming app will let you access more than one million e-books and periodicals, alongside content already purchased for the Nook. Also in the e-reader market are Sony and, with a recent announcement, Samsung.
The iPad, a tablet-like device with a 9.7-inch touchscreen display, is heralded by Apple as a top-notch e-reading device, among other features. Amazon and Barnes & Noble have been fighting over the electronic readers ma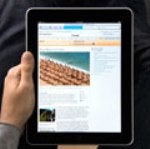 rket last year, with both retailers offering their own devices: the Amazon Kindle and the Barnes & Noble Nook.
However, since Apple announced its arrival on the market with the iPad, publishers had a spat with Amazon over its e-book selling model, which led the retailer to agree to higher price on e-books, to match Apple's agency-style offering.
E-ink readers such as the Kindle and Nook will draw from a certain market, but with their sales threatened by the iPad, e-book retailers want to sell their books on Apple's multimedia-oriented device as well.
So an easy way to sell their e-books on the iPad is for them to introduce their own applications and storefronts on the device, just like Apple will do with its own iBook store — through the popular App Store system.
Amazon, which like
Barnes & Noble already has an iPhone app designed to read e-books purchased from its store, could also jump on board, though the company is yet to make an official announcement. Still, it makes sense for the company to adapt its existing app to the larger display of the iPad.
Amazon is already expected to offer its e-book storefront on other tablet devices, such as the Dell Streak, running on the Google Android operating system.
The prospects of multiple e-book stores on the iPad are interesting. Not only it would break Apple's closed eco-system model of purchasing content from the iTunes/iBook store, but could also lead to fierce pricing competition.
But will you potentially check all the three e-book stores to find the cheaper deal for the book you are after, or just settle for a preferred provider? Sound off in the comments.