Twitter users can now add their current location to their tweets. The micro-blogging service on Thursday activated an optional new feature that appends geographical information to your posts.
Once you opt-in, Twitter adds your location to your tweets. Note the region circled in red:

Why the new feature? "A recent burst of interest in location sharing applications, games, and services has many Twitter users excited about appending geographic data to some of their tweets," writes Twitter co-founder Biz Stone.
He also provides a somewhat bizarre example of how location-sharing could help Twitter users. If you hear a loud boom outside, search Twitter for "boom," and find a tweet in your area mentioning a fireworks show, you can safely assume the noise is nothing to be concerned about.
Unless, of course, a terrorist planted that tweet to throw you off? Or maybe I'm just being paranoid.
The effectiveness of location tweeting will depend on how many users opt in, of course. Thus far, the reaction on Twitter appears to trending negative.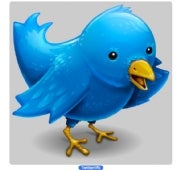 User "adriennebunny" wrote: "no twitter, i would not like to turn my location on to my tweets. that's just asking for stalkers."
"Zazochi" voiced a similar concern: "I know I'm paranoid but NO, I don't want 2 tweet my location. Tweeting a million strangers where I am goes against my survival instinct."
And "neversun" opined: "I don't understand why you would want your location on your tweets. Am I missing something?"
Despite this early negativity, it's feasible that a significant number of Twitter users will take to location-sharing. After all, many already tweet their current location via Foursquare, a practice that's been mocked by PleaseRobMe, a website designed to illustrate the potential dangers of sharing too much personal information online.
Facebook is reportedly developing its own location-sharing feature, although the company hasn't confirmed this rumor.
Well, Twitter fans, will you opt in?
Contact Jeff Bertolucci via Twitter (@jbertolucci ) or at jbertolucci.blogspot.com .