Apple began accepting pre-orders this morning for the much-anticipated iPad. While the iPad is designed primarily as an entertainment and media platform for consumers, there are also some valid business uses for the slick tablet.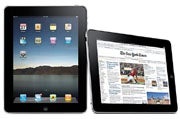 Business professionals can use the iPad to show product or service presentations without having to carry around a laptop or notebook–as long as they don't rely on any Adobe Flash. With over 150,000 apps available, and new apps being introduced that are specifically optimized for the iPad, business professionals won't have any problem finding uses for it.
Apple has also rolled out iWork for iPad–delivering at least limited business productivity to the consumer device. If you truly want to make use of the iPad in a business setting though, there are probably some other iPad accessories you should consider in addition to iWork.
•· iPad Case. The iPad case serves to protect the display from getting scratched or cracked while you carry it about. There are openings that enable you to access the headphone jack, dock connector, and volume controls while the iPad is in the case.
This case has another trick up its sleeve, though. The iPad case has a unique folding capability that lets it prop the iPad up at a perfect angle for viewing presentations or videos.
•· iPad Dock and Keyboard. The iPad dock and keyboard can be purchased as a single unit, or you can get the standalone dock and the wireless keyboard for a little more freedom of mobility. Like the case, the dock props the iPad up at an angle so you can view presentations or videos, or so you can work with productivity apps using the keyboard. While your iPad is connected to the dock, it can sync the iPad and recharge its battery.
•· iPad Charger. Business professionals who travel frequently will want to purchase the 10W USB power adapter. With this charger you can connect the iPad directly to a power source to charge the iPad when you don't have a computer available to sync with. The charger is also compatible with the iPhone and iPod Touch, so users with multiple Apple products only have to carry the one charger, rather than two or three.
•· iPad Dock Connector to VGA Adapter. This attachment lets you connect your docked iPad to a television or monitor for a larger display for group presentations. On a less business-oriented note, you could also hook it up to watch movies from your iPad on the big screen.
•· MobileMe. This is a software package instead of a physical attachment, but for business professionals it might be the most important accessory for the iPad. MobileMe automatically pushes new e-mail, contacts, and calendar events wirelessly to the iPad. It also includes cloud-based iDisk to enable file storage and sharing online.
•· 3G. For consumers, I personally feel that the 3G version of the iPad is a scam. You have to pay $130 extra for the iPad, then pay $30 a month to AT&T for access to unlimited 3G connectivity (there is also a 250Mb 3G data plan for $15 a month). AT&T's 3G data network is already taxed by the iPhone, and when asked how its network would handle the iPad AT&T responded that it expects most iPad usage to fall under Wi-Fi. If that is true, why do I need 3G?
That said, Apple negotiated a pretty sweet deal with AT&T. There is no contract required. You can sign up for, or change your 3G data plan instantly on the fly (assuming you have the 3G-enabled iPad), and you can drop the access without any penalties or obligations. You may never need it, but for business professionals I think it makes sense to invest the extra $130 so its at least an option if you need a network connection and no Wi-Fi is available.
Tony Bradley is co-author of Unified Communications for Dummies . He tweets as @Tony_BradleyPCW . You can follow him on his Facebook page , or contact him by email at tony_bradley@pcworld.com .