The Apple iPad has been available for pre-order for more than 24 hours now. Initial demand seems promising, although not everyone has embraced the concept of dedicating $500 or more to be an early adopter of a device that nobody really has all the details on just yet.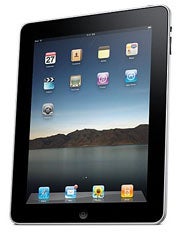 Not to sound like a broken record, but the iPad is a consumer device. Actually, as far as I am concerned anything with an Apple logo is–by default–intended primarily for a consumer audience. Despite the passionate zeal of the Apple faithful, you won't see any Fortune 500 companies lining up to dump Windows-based PC's for Macs, or BlackBerry smartphones for iPhones any time soon.
That said, the iPad–and other Apple devices–can be more than functional business tools as well. Most business professionals will need a little something more from the iPad than a music playing, e-book reading, Web surfing, movie watching tablet device.
The following is a selection of apps that business professionals can use to transform the media-consuming toy into a productive business tool:
• Salesforce Mobile. Salesforce.com's app provides on-the-go access to Sales Cloud. Sales Cloud give business professionals the ability to log calls, respond to leads, access critical customer data, and view dashboard information from the iPad.
• FedEx Mobile Web App. Mobile and remote workers need a convenient way to schedule and track package shipments. The FedEx Mobile Web App lets you create shipping labels, locate the nearest FedEx office, or monitor the progress of shipments in transit.
• Meebo. Instant messaging has become an essential means of business communication. Meebo supports all major instant messaging networks and enables you to keep in touch through instant messaging from your iPad. Meebo overcomes the lack of true multitasking with Push notifications that work even when the app is closed, and it automatically reconnects if the signal is lost to make sure you stay in touch.
• Freshbooks. Business professionals that need to track and log their time for billing purposes will appreciate Freshbooks, especially if managing multiple clients simultaneously. The Freshbooks app is another example of an app developed to function properly in spite of the lack of multitasking. The Freshbooks task timer will continue to run in the background while you use your iPad for other functions. It also works even with no Web connection–queuing time entries until a connection is available.
This is an exceptionally small sampling of what is available. Granted, out of 150,000 plus apps available, there are far too many that make fart noises, or display a flickering lighter, or some other moronic thing. However, despite the repeated mantra that the iPhone and iPad are not for business, there is also a diverse and growing selection of apps designed specifically to change that perception.
Aside from standalone apps, there are also much more comprehensive solutions that can deliver a more complete business environment to the iPad. Accessing Google Apps from the iPad via the Web, and the new Google Apps Marketplace, offers business professionals cloud-based access to a plethora of valuable business and communications tools.
Organizations can use Array Networks Desktop Direct, along with the Desktop Direct client app, to establish a remote desktop connection from the iPad, directly to the user's desktop. Desktop Direct provides a direct portal to the desktop–so the user can access all data and run all applications on the desktop directly from the iPad.
Devices like the upcoming HP Slate–built on the Windows 7 operating system–seem like a more logical fit for business use. However, the world has changed and the line is blurred between consumer and business devices. The bottom line is that people will buy an iPad as a consumer, but will naturally want to figure out how to integrate it as a business professional.
Fortunately for them, the tools are out there to make that work. To each their own.
Tony Bradley is co-author of Unified Communications for Dummies . He tweets as @Tony_BradleyPCW . You can follow him on his Facebook page , or contact him by email at tony_bradley@pcworld.com .