The Internet is filled with nostalgia on Monday as geeks all over the world celebrate the 25th anniversary of the registration of the first dot-com domain. On March 15, 1985, a small Massachusetts-based computer manufacturer Symbolics, Inc. registered Symbolics.com. It would be more than a month before the second dot-com was registered, and there wouldn't be 100 registered dot-coms until November 30, 1987.
How times have changed. Today, there are 668,000 dot-coms registered every month, according to the BBC. Current top Internet properties include names like Google, Yahoo, Microsoft, Facebook and eBay–none of which were registered until the 1990s.
On this historic anniversary of the first ever registered dot-com domain, let's take a trip back and revisit the histories of the first five domains ever registered, plus the story of what is arguably the most notorious dot-com ever.
1. Symbolics.com, registered March 15, 1985
Symbolics may not be a household name, but this little known domain holds the title of the first dot-com ever to be registered. The Wayback Machine shows that Symbolics looked like this in December 1998: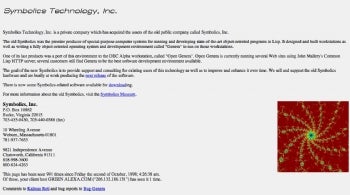 By January 2008, according to the Internet Archive, the site had reverted back to the original Symbolics logo, and retained that pre-Web 2.0 feel: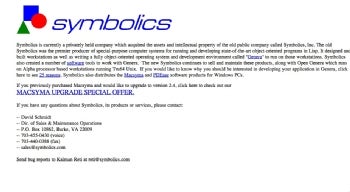 Symbolics.com was sold for an undisclosed amount to XF.com investments in August 2009. The site now serves as the personal blog of Aron Meystedt, CEO of XF.com Investments. XF.com is a commercial real estate and domain name investing company. Here's how the site looks on its 25th anniversary: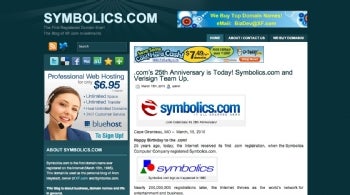 2. BBN.com, registered April 24, 1985
By 1997, computing and consultation company BBN was about to be acquired by telecommunications giant GTE. At the time, BBN.com served as the online presence of BBN Planet, the company's Internet access, Web hosting and site building division. Here's what it looked like in January 1997: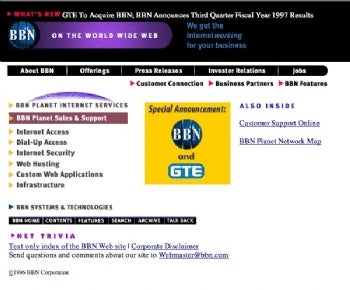 Almost two years later, the second dot-com ever was a mere placeholder for GTE (the site images do not survive):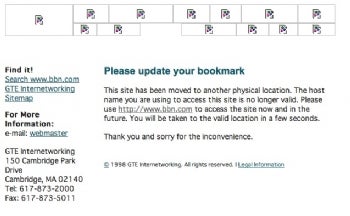 In 2000, GTE merged with Bell Atlantic to become Verizon in 2000, and by 2004 Verizon sold BBN to a group of private investors, who in turn sold the company to Raytheon in 2009. Today, BBN is a high technology research and development company: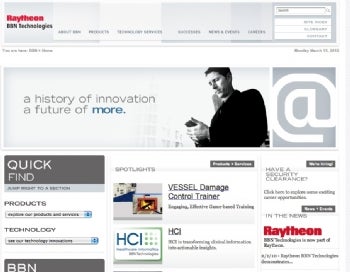 (BBN was also the company that developed and operated the U.S. Government's ARPANET–the predecessor to the Internet. For more Internet history, check out PC World's The Evolution of the Internet.)
3. Think.Com, registered May 24, 1985
Thinking Machines Corporation was a former supercomputer manufacturer when it was founded, but by 1997 the company was selling data mining software on the third dot-com in history: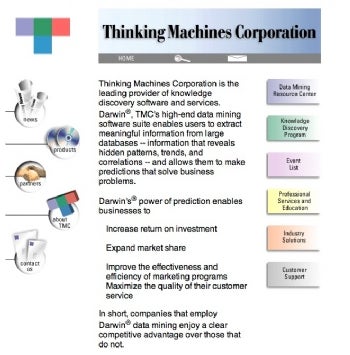 By 1999, the company had been acquired by Oracle, and by late 2000 Think.com was a free hosted Web service for public school students that included email, home pages, collaboration tools and more.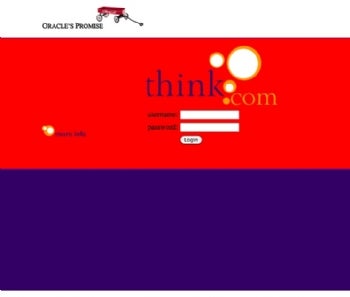 Today, Think.com redirects to Oracle's thinkquest.org, which is billed as "a learning platform where teachers and students create learning projects."
(March 15 isn't the only important anniversary this year. Check out PCWorld's 25 Geeky Silver Anniversaries to Celebrate in 2010.)
4. MCC.Com, registered July 11, 1985
Founded in 1982, Microelectrics and Computer Technology Corporation was a computer industry consortium specializing in research and development. Among MCC's numerous research projects were technologies like advanced vision systems, collaboration management infrastructure, and server and network technology.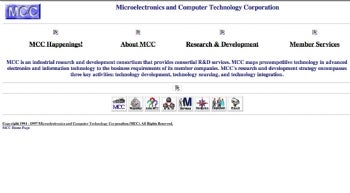 By 2000, however, MCC was looking at spinning off all or part of its major projects into individual companies. MCC was eventually dissolved, but here's what it looked like in late 2000: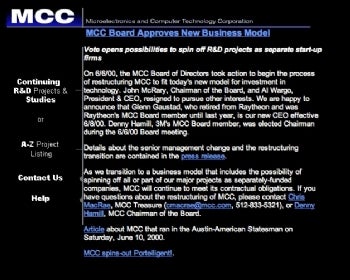 Today, MCC.com is basically a parked domain with no real content, and owned by a Shanghai-based company. The site has a search engine powered by searchmagnified, which has been flagged for suspicious behavior by security firm McAfee.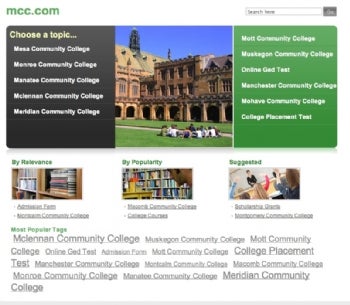 5. DEC.com, September 30, 1984 (R.I.P.)
The fifth dot-com domain ever registered, DEC.com, now resolves to a page on the site of Hewlett-Packard — which is where you can still find technology created by onetime computing powerhouse Digital Equipment Corp. The Massachusetts company, founded in 1957, competed with IBM in the minicomputer market.
DEC was acquired in 1998 by Compaq, which in turn merged with HP in 2002, so today HP owns DEC's technology, its name, and its domain, and still sells some products derived from DEC equipment.
Now we'll move to an interesting domain that isn't even counted among the first 100 dot-com domain names: sex.com
Sex.Com — registered October 18, 1995
Perhaps owing to its infamous and prurient moniker, Sex.com has one of the most interesting histories among dot-com names. The site, surprisingly, wasn't registered until 1995 at the beginning of the dot-com craze of the 1990s. It was first registered by Gary Kremen, founder of Match.com, but Kremen never did much with the domain because he was busy with his other Web properties.
Eventually, a con man named Stephen Cohen stole Sex.com from Kremen by forging a letter that convinced the site's domain name registrar to transfer the dot-com from Kremen to Cohen. Here's what Sex.com looked like in 1996 after it was reportedly under Cohen's control:
By 2001, Kremen was able to get Sex.com back, and the site went through a variety of visual overhauls, which we won't show you here. Kremen eventually sold Sex.com for a rumored $14 million in 2006. It didn't take long after the sale for Escom, the company that bought the domain, to run into financial trouble. Sex.com is now for sale, and will be sold in a public auction by the New York law offices of Windels Marx Lane and Wittendorf on Thursday, March 18 at 11 AM ET. The site won't come cheap, however, just to get in the door you have to have a certified bank check for $1 million.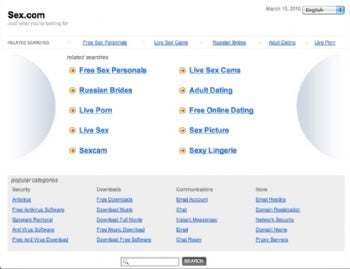 You can hear the full story of Sex.com from NPR's On the Media, and you can download Sex.com's notice of sale here (PDF).
Want more domain name history? Check out The Internet's Oldest Dot-com Domain Names.
Connect with Ian on Twitter (@ianpaul) or on Google Buzz.