Why the low key? Why no fanfare? Twitter just announced for the first time a way to make money! That's a big deal right?
Right. Then why was the announcement made in the first five minutes of the presentation, with few tough questions following from the moderator Umair Haque. No detail, no discussion of implications. Nothing.
You've probably read the news, or maybe not. Twitter founder Evan Williams announced his company's new @Anywhere platform, which will allow web publishers to embed Twitter feeds deep inside their content. If you encounter one of these things within New York Times article, for example, you'll be able to tweet about the story without having to go over to Twitter. Online publishers will like keeping readers engaged, and will pay Twitter for the privilege.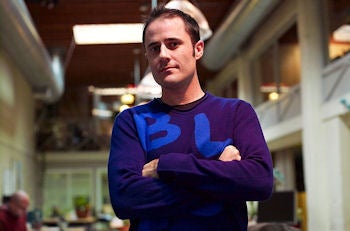 Evan Williams. Image Credit: Joi Ito via Flikr/Wikipedia.
Evan isn't the most colorful guy in the world to begin with, and moderator Haque did little to liven up the session. After the brief announcement portion of the talk was over, people here began leaving the room in droves.
During and after the speech, Twitter was jammed with tweets about how boring the whole thing was. Like this one:
LaurieManny: Audience walks out on Twitter CEO Keynote…line to get out of room…
A line to get out of the room! Before the speech, a long, long, long line waited to get in to see what was by far the highest-profile session of the conference.
The @Anywhere platform helpsTwitter stay around longer (in the absence of an acquisition by somebody like Google), and gives Tweeters more flexibility around when and where they tweet. It's also cool because you'll be able to tweet about something you care about sooner after the experience of reading it. And you won't have to search much for people who also care about the content: they'll be right there.
But the way this thing was announced here today makes me wonder. It was as if Williams wanted to announce the thing today, but didn't want to give many details about it, and what it might mean. Why is he downplaying it? Is something bigger and better coming? Some other deal that will bring far more revenue to the company?
More SXSW News: