If networks were perfect, you could access them without any configuration. Thankfully, this is usually the case. But if you've used the Internet in strange places, you know that some networks require special–and often bizarre–settings. Windows only allows one configuration for each network adapter, so you must manually change the settings each time you switch to or from such a network. Mobile Net Switch ($34; nag screens appear until license is purchased) automates this process, letting you quickly select between different "connection profiles."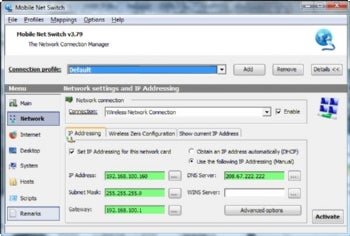 A connection profile is a group of settings which Mobile Net Switch will activate. All the obvious network settings can be modified for each adapter, including the IP address, gateway, and DNS server. The DHCP server on my home router is broken, so I use Mobile Net Switch simply to cycle between static and automatic IP addressing. But even if you have more advanced needs, Mobile Net Switch can handle it. You can configure IP routes, dynamic hosts, drive mappings, and proxy servers. Personal settings such as screen resolution and default volume can be part of a connection profile too. Mobile Net Switch will even run scripts, if you can find anything that it doesn't already support.
To change connection profiles, just right click on the program's tray icon, and select the desired profile. A small progress window will pop up to show you which settings are actually being changed. After a few seconds, Mobile Net Switch will finish. It sure beats tedious navigation through the Control Panel.