If there was any love left between Google and Apple, Tim Bray killed it.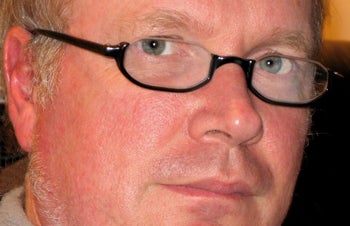 The former developer of Web technologies for Sun Microsystems and the co-inventor of XML came out firing in a blog post explaining his new job as Android developer advocate for Google. Bray was harsh where Google in the past has been subtle. He ripped into Apple and said he'll enjoy competing with the company.
Bray said the opinions on his blog are his own, but that Google reviewed the blog post before it was published and didn't request any changes. The money quote:
"The iPhone vision of the mobile Internet's future omits controversy, sex, and freedom, but includes strict limits on who can know what and who can say what. It's a sterile Disney-fied walled garden surrounded by sharp-toothed lawyers."
And:
"Apple apparently thinks you can have the benefits of the Internet while at the same time controlling what programs can be run and what parts of the stack can be accessed and what developers can say to each other.
"I think they're wrong and see this job as a chance to help prove it."
Bray's commentary on Apple isn't fresh. You find much of the same stuff in the comments section here when we write about the iPhone or Android. But you don't hear it from Google. Ads for the Motorola Droid indirectly mocked the iPhone, but that was Verizon Wireless' battle. Before Bray, the closest Google came to publicly knocking Apple was a long-winded blog post on openness that made one casual mention of the iPhone.
This is different. It's war.
The serious question to arise from Bray's acid-tongued remarks is how long will Apple tolerate Google services on the iPhone while a Google figurehead is openly mocking the platform? Obviously there was the Google Voice fiasco, but YouTube, Google Maps, and Search are core parts of the phone.
It was rumored that Apple and Microsoft were negotiating to make Bing the iPhone's default search engine, but so far that hasn't panned out. Nor has Apple's purchase of map company Placebase turned into a replacement for Google Maps. The more Google and Apple look like enemies, the more awkward it'll be for the iPhone to play such a gracious host to Google services.
But here's a more pressing question for those who just love a good tech rivalry: Will actors John Hodgman and Justin Long find new work personifying a generic Android phone and an iPhone?