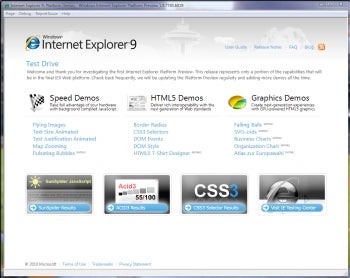 Microsoft today released a "platform preview" of Internet Explorer 9. This isn't an IE9 beta, mind you; it doesn't have the features you'd expect in a browser. It doesn't even have an address bar for that matter. Instead, the IE9 Platform Preview serves as a sneak peek at some of the new Web technologies and standards that Microsoft is working on building into its flagship browser.
Web Standards: An Overview
How often have you seen the message, "This site best viewed in Internet Explorer"? If you used Internet Explorer, you likely would have no problems viewing the site. But if you use another browser–Firefox, Safari, Chrome, Opera, and so on–you could run into some compatibility problems.
The idea behind Web standards is that ideally every Web browser would be able to view any Web site. You'd no longer have to rely on using the leading browser in order to view Web sites the way they were supposed to be. And support for Web standards means support for the latest and greatest Web technologies like HTML5. The result is better Web sites, and a better experience for everyone, no matter what OS or browser the use.
What Will IE9 Bring to the Party?
Internet Explorer has gotten a fair amount of criticism in the past for its tepid Web standards support. With IE9, however, Microsoft is heavily touting its improved handing of new Web technologies. The IE9 Platform Preview provides improved HTML5 support, CSS 3 support (CSS is a technology that makes it easier for designers to specify how they want their sites to look), and an upgraded JavaScript Engine for better performance of Web apps.
Also, IE9 will provide hardware acceleration for rendering graphics and text on a Web page (Microsoft's press release didn't mention which GPUs will be supported, but it's probably safe to assume you'll need a fairly recent card), and built-in support for H.264 video playback using HTML5 (such as what YouTube currently provides for some videos).
Microsoft has several technology demos on its IE9 Test Drive site, such as a T-shirt designer, various animation demos, and even a variation of the classic game Asteroids. None of these demos use Flash; instead they all make use of Web technologies such as JavaScript and HTML5.
The IE9 Platform Preview is a free download from Microsoft; since it's nowhere close to being a finished project, it won't replace your current version of Internet Explorer. Be sure to download it and try out some of the demos.
Follow GeekTech on Twitter or Facebook.