Here's a simple way to do good things for the environment while saving ink, paper, and printer costs. GreenPrint Home Premium lets you preview print jobs, and then remove unnecessary pages (such as those with no text on them) and images before printing. In that way, you'll get by with printing far fewer pages. To save even more ink and paper–to say nothing of money–you can use GreenPrint Home Premium to create PDFs from the pages instead of printing them. The $29 program (30-day free trial) is available in a 32-bit and a 64-bit version.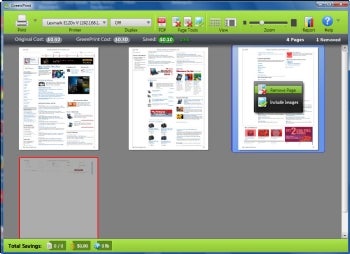 Green Print Home Premium is quite easy to use. It installs as a printer driver. When you want to print, choose it as your printer driver. You'll then get a preview of all of your pages, and you can remove graphics, text, and entire pages. When you're done, tell it to print.
The program tells you how much paper, money, and greenhouse gases you save when using it. It also gives other reports as well, such as from which applications you most commonly print. But the real purpose of GreenPrint Home Premium is to save money and the environment, and it does an exemplary job at both.