The portable fantasy-series prequel Disney and Final Fantasy wonks have been waiting for will finally ship this summer, says Square Enix, which should prompt a bit of Snoopy dancing. The PlayStation Portable-exclusive Kingdom Hearts: Birth By Sleep debuted in Japan this January, but US fans were left wondering when–or if–the game would make its way stateside.
The good news: It'll be here in less than six months! The bad? "Summer" means any time between Memorial Day (May 24) and Labor Day (September 6), so place your bets!
The Kingdom Hearts games are slightly out there as action-RPGs go, wedding the warm-fuzzy nostalgia of popular Disney characters with the awkward emo operatics of Square Enix's Final Fantasy roleplaying epics. That hasn't hurt their popularity any: According to Square Enix, the series can claim 14 million copies shipped worldwide, putting it on par with Metroid and Prince of Persia, and well ahead of series like Mario Kart, Gears of War, StarCraft, Civilization, Doom, and God of War.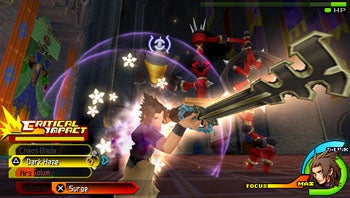 Kingdom Hearts: Birth By Sleep marks the fifth in series, but it's actually a prequel to the original game, reportedly delving into the origins of the franchise through three characters, Terra, Ventus, and Aqua (if you read those names as "earth," "wind, and "water," you're not wrong–the elemental shtick's totally a Japanese thing).
The big lures this time seem to the game's "deck"-built battle system (you pre-build command abiliies, then execute them in real-time) and the multiplayer modes (Versus, Arena, Command Board and Rumble Racing–see here for breakdowns). That, and Birth By Sleep was developed by the same team that handled Kingdom Hearts: Chain of Memories, using the same high-end graphical engine as Crisis Core: Final Fantasy VII, both factors that bode well for the game's US debut. We're even getting a few region-specific perks, including Crown Stickers (whatever those are), an extra boss, and "additional multiplayer options."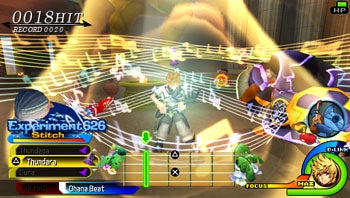 This is embarrassing, but I've never finished a Kingdom Hearts game. I blame Final Fantasy XIII (and before that, Final Fantasy XII, and before that…). I still have the first and second games, the portable sideliners, and the PS2 remake of the Game Boy Advance game (Chain of Memories–see the note about Birth By Sleep's design team above).
Time to go back and finish the job?
Follow us on Twitter ( @game_on )