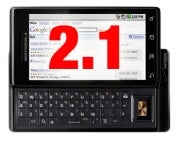 Verizon says on Thursday it will update its Motorola Droid phone to the latest Android 2.1 software juicing the handset with multitouch pinch-to-zoom capabilities and adding live wallpaper. Verizon customers have been eagerly awaiting the update ever since Motorola said the upgrade would occur in early February in "one week" — but it never happened.
The Motorola Droid, the once must-have Android device (before the Google Nexus One came out in January), gets the latest version of Google's mobile operating system, according to promotional material on Verizon's website (PDF) originally unearthed by Engadget.
The set of improvements in the Android 2.1 software update for the Droid is richer than previously thought, in a welcomed move by users who had to wait an extra month for Motorola's announcement of the upgrade.
With Android 2.1, Motorola Droid users will get multitouch pinch-to-zoom capabilities (using the built-in browser), the Gallery feature (for viewing images), and a Google Maps app. The Gallery app also brings the 3D layout found on the Nexus One, and — surprise, surprise — live wallpapers, which were previously missing from the upgrade reports.
Also on the Android 2.1 feature list for the Droid are new Weather and News applications and widgets, and support for voice-to-text entry from within the virtual keyboard (by tapping the microphone icon).
Android 2.1 on the Motorola Droid you will also bring better handset audio when disconnecting a wired headset, an "improved" pattern-lock functionality and automatic night-mode switch in Google Maps.
One thing that the Motorola Droid won't get in the Android 2.1 software update is the new 3D application launcher found on the Nexus One, though despite this, most of the new features have made their way to the Droid.
The Android 2.1 update for the Droid will be delivered over-the-air from Thursday, and a report from Android Central says it will be rolled out in batches of 250,000. The Verizon documentation states that email accounts will no longer need to be re-entered after an over-the-air upgrade.