As I've mentioned countless times before, I'm a big fan of using Windows Media Center as my DVR for watching and recording TV.
But I do have one gripe: Very often I'll pause whatever show I'm watching, only to return a while later to discover it has "unpaused" without my permission. Why? Because Windows Media Center's default "pause buffer"–the amount of hard drive space reserved for live-TV storage–is just 30 minutes.
If you've got drive space to spare, you can easily increase the size of the buffer to accommodate longer periods away from the TV. One tiny tool makes it possible: MCE Live TV Buffer Manager. (How's that for a descriptive name?)
There's nothing to install: Just run the program, choose your desired buffer (any 15-minute increment between 30 and 120 minutes), and then click Apply. Reboot your PC and you're good to go.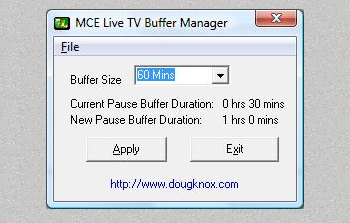 By the way, there's some anecodotal evidence that increasing the size of the pause buffer can overcome a known (and seriously annoying) bug in Windows 7: The "low bit rate" error that sometimes appears when watching live TV. I'm looking into this myself, as I've been plagued by the bug for months. If it does prove to solve the problem, I'll report back in a future post.