Petite, that's how you might describe this rumored Xbox 360 motherboard, snapped and leaked on Chinese site A9VG's message boards and picked up by Kotaku. The motherboard reportedly packs the CPU and GPU onto a single chip–that'd be it purportedly hiding under the CoolerMaster fan–whereas existing Xbox 360 boards position the CPU and GPU across from each other at the board's center (see below).
The post topic reads 'XBOX360新款主机主板大图 ', or as Google Translate clumsily puts it, "XBOX360 new host board to enlarge."
Someone pranking? Possibly. Even Kotaku admits as much, though after suggesting that the chip is "part of a rumored redesign for the Xbox 360 console, testing of which has recently been completed in China."
Compare the hypothetical slim-line Xbox 360 board (above) with the current board (below). The hypothetical looks smaller all around, doesn't it. And boxier. Almost micro-ATX-sized.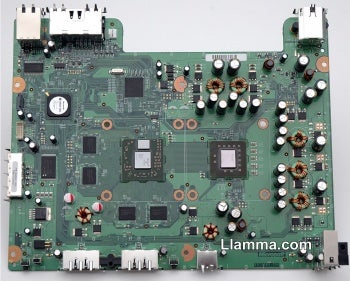 Of course it could literally be a micro-ATX board doctored up with the 'Microsoft Xbox 360' logo Photoshopped onto the chipset silicon. And since when did Microsoft use costly name brand Cooler Master fans, anyway?
Then again, Natal's due end of year, and Microsoft's hinted at a re-launch of sorts. We've all wondered when–not if–Microsoft would redesign the 360. The system's five years old this fall, halfway through its cycle if you buy the corporate talking points. What better time to launch a cheaper, smaller, and–everyone cross your fingers here–quieter part?
If it's not just someone having us on, I'd peg Microsoft's E3 2010 (June 15-17) dog and pony show for the official unveiling of…whatever they decide to call it.
Follow us on Twitter (@game_on)