One thing's for certain: Sprint will introduce a fourth-generation (4G) wireless phone at some point this year. When exactly? The wireless carrier isn't saying, despite ongoing rumors that the official launch will happen next week at the CTIA Wireless trade show in Las Vegas.
The Wall Street Journal today reported that Sprint CEO Dan Hesse will debut the new 4G phone, an HTC-built handset reportedly called the "Supersonic," during a CTIA presentation next Tuesday.
Sprint's reaction: No comment. "Everyone's been speculating on that one. We have said publicly that we will have a 4G phone out this year, but we have not made any other official statements," Sprint spokeswoman Michelle Leff Mermelstein told PC World.
4G: The Time Is Now
It's logical that Sprint, the third-place U.S. wireless carrier that continues to bleed subscribers despite ongoing efforts to improve its service and coverage, would launch a 4G phone as soon as possible.
The company's 4G WiMax network is run by Sprint's wireless broadband partner Clearwire. Sprint has a head start over competing U.S. wireless providers, including AT&T and Verizon Wireless. Those carriers have yet to launch their 4G networks, which use a competing technology called LTE (Long-Term Evolution).
Of course, Clearwire's WiMax network is far from built out–it's currently only in 33 U.S. markets–but Sprint could earn bragging rights and maybe lure early adopters by introducing the first 4G handset. There are risks in being too early, however, particularly if spotty 4G coverage disappoints Sprint's customers.
Below: A map of Sprint's 4G coverage area (in blue) in Chicago: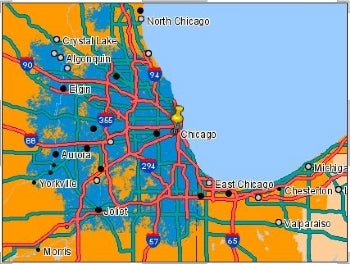 Benefits of 4G
The Clearwire WiMax network is theoretically up to 10 times faster than today's 3G systems, according to Sprint. For example, average download speeds on Sprint's 4G network are 3 to 6 megabits per second versus a relatively poky 600 Kbps to 1.4 Mbps via 3G. Only a few devices currently work on the Sprint 4G network, including the Sierra Overdrive Hotspot.
Sprint's 4G window of opportunity is small. Verizon Wireless has announced plans to roll out LTE service in 25 to 30 U.S. markets by the end of the year, and AT&T will likely debut its 4G service in 2011.
Contact Jeff Bertolucci via Twitter (@jbertolucci ) or at jbertolucci.blogspot.com .