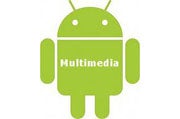 Whether you're a videophile or a casual videographer looking to capture life's precious moments, your Android device can help you grab plenty of footage and share it with the world. And that's just the start: With the aid of a few choice apps, you can video chat, stream movies, and play clips from your personal collection–all right on your tablet or phone.
Capture Video
Android includes robust capture capabilities that are limited only by the power of your device's built-in camera. With more and more devices now featuring HD-capable hardware, your phone or tablet can often take the place of your camcorder–or, at least, serve as a suitable stand-in when the camcorder is out of reach.
To start shooting video on your device, launch the Camera app and toggle it to Video mode by tapping the small camcorder/camera switch on the right side of the screen. (This step should seem obvious to most readers, but it's important to hold the device horizontally as you shoot, since there's no such thing as portrait mode in video.)
While the camera's default settings generally do a good job of automatically compensating for various lighting conditions, you can also fine-tune your capture settings within the Camera application. You'll find those sorts of options along the side of the main viewfinder area (on some phones, you may have to tap your finger once on the viewfinder to make them appear).
Thanks to manufacturer-specific customizations, Android's Camera app settings sometimes differ from one device to another. At the very least, you should be able to adjust the video size, white balance, and color effects. If your phone or tablet has two cameras, you'll also be able to toggle between the rear- and front-facing cameras. Some tips for tweaking your settings: You'll likely want to shoot in HD (or high quality), most of the time. High-quality video clips can take up a fair amount of space on your device's storage. But if you're planning to share your videos via email or MMS messaging, you may want to select a lower-quality setting to make sure they'll be small enough to send.
Auto white balance is enabled by default, and usually the results are decent. But if you plan to stay in one place while shooting, it's best to select your white balance manually, according to the lighting in your environment. Android's Camera app gives you several options, including incandescent lighting, daylight, and fluorescent lighting. When you're happy with your settings, tap the red Record button on the screen to start capturing. And when you're finished, tap the same button to save the recording to your storage.
Edit and Share Your Videos
If you're using a table with Android 3.0 or higher, you can use Google's built-in Movie Studio app to perform basic editing functions on any recorded clip. Some Android phones include basic video editing software as well. If your phone doesn't have any such software pre-installed try VidTrim; you can find a free ad-supported version in the Android Market.
To share videos from your Android device, tap them in the Gallery to open them. You can get to the Gallery from your main app drawer, or by touching the Gallery icon in the corner of the Camera app. There, simply select the Share option to view a list of apps that can send your video friends (on phones, the Share option is at the bottom of the screen; on tablets, it's an icon in the upper-right corner). You can send videos via Gmail, YouTube, Messaging (MMS), and many other social applications.
Bear in mind that certain methods of sharing video will have limitations. If you want to share your videos with friends via MMS, it's best to shoot in low quality and to keep the message shorter than 30 seconds. YouTube videos can be high quality, but must be less than 15 minutes in length.
Video Chat and Live Broadcasting
For Android video chatting, the best solution is Google's own Google Talk platform. Phones running Android 2.3.4 or higher and tablets running Android 3.0 and up have Google Talk video chat built in; all you have to do is open the Google Talk app and you can chat live with anyone else signed into the platform on a phone, tablet, or computer.
For devices with older versions of Android, some third-party apps offer video chatting services through their own proprietary platforms. Qik and Fring are two popular (and free) options.
If you feel like doing a little live broadcasting, you can do that, too. The aforementioned Qik app gives you the ability to record and stream video from your Android phone to a free account on Qik.com. There'll be a short delay of a few seconds as the video uploads to Qik's server, but to your viewers it's as good as a live TV feed.
Play Movies and More
For entertainment on the go, check the Android Market to see if Netflix is available for your device. The company currently offers mobile streaming on several Android phones and has promised broader support in the future. A standard Netflix subscription is required in order to use the service.
Google also maintains its own Android-connected movie-streaming service. It's currently available for tablets running Android 3.1 or higher and will soon be available for phones running Android 2.2 and up as well. Movies cost anywhere from $1.99 to $3.99 to rent and can be "pinned" to your device for offline viewing (they'll remain available for 30 days; once you start watching, you'll have 24 hours to view the film). You can browse through available titles and make a selection within the Android Market on your device or on the Web.
Of course, you can always copy video files to your device and play them back, too. A program called DVD Catalyst gives you a wide selection of preset options to convert DVDs and other video content into formats optimized for almost any Android tablet or phone. (It's available for about $10 at www.tools4movies.com.) Though the legality of this process will depend on the type of content you're converting, the process itself is simple. Bear in mind, however, that a full-length movie can take more than an hour to convert.