URL-shortening services such as bit.ly and tinyurl.com are great when you want to posting a long, complicated links on social networking sites such as Twitter. Just use the service, and a long link becomes a short one, like this: http://bit.ly/aJyaBT. But they pose a problem as well, because before someone clicks such a shortened link, they have no idea where it leads. If you're the kind of person who like to where a URL will lead you, you'll welcome the Long URL Please Firefox add-in (free). It replaces shortened links on a Web page with their original links.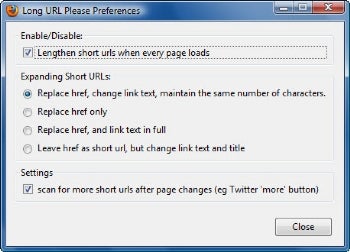 You don't have to take any action to use Long URL Please. Install it, and whenever you visit a Web page that includes shortened links, you'll see the original long links, instead. For instance, you'll be able to view the original links on Web-based mail services and Twitter. It works with all the major URL-shortening services, including bit.ly, tinyurl.com, and many others–80 in all, according to the developer.
Long URL Please is useful, but far from perfect. I've found that it's somewhat flaky when dealing with shortened links created by the bit.ly service. Most of the time it works, but in some instances, it displays the shortened links rather than the original, long ones. One consolation is that when it fails, at least you know that before you click the link.
Still, Long URL Please is well worth the download for anyone who likes to know where they'll be sent on the Web before they click. Even if it doesn't work every time, it might keep you out of a jam.