At a Glance
Expert's Rating
Pros
Easy mode and advanced mode
Faster and more stable than before
Cons
Could use training videos for walk-throughs
Our Verdict
VideoStudio Pro X3 is a solid video-editing package for hobbyists as well as for those seeking down-and-dirty editing with minimal frustration.
Many video-editing programs try to make the process easy enough for busy parents to perk up family vacation flicks while delivering enough features and effects for aspiring auteurs to make their movies look like indie shorts. Corel's VideoStudio Pro X3 ($100), which adds a few new functions, does a good job of making the appropriate compromises.

The biggest improvement is that it's zippier than before–on the right system. I found that in switching between editing tasks or previewing a clip, VideoStudio was snappier than most competitors. That's thanks mainly to the program's ability to take full advantage of the multithreading capabilities of Intel's latest processors: On a Core i7 system running Windows 7, the app can keep up with your bursts of inspiration (a fast graphics processor will also help with filters and video processing). Conversely, I tried working in the new VideoStudio on a Centrino Duo laptop running Windows Vista, and I didn't see much improvement over previous VideoStudio versions.
Although no program is crash-proof, VideoStudio Pro X3 almost eliminates the terrible habit many video packages used to have of freezing whenever you so much as breathed on the computer. You can minimize an open project, go back to your "real" work tasks, and return later without fear that hours of edits will disappear. The program even retrieved all of my work after I clumsily kicked out the PC's power cord and rebooted the system.
VideoStudio deftly handles popular HD formats from camcorders and cameras. I easily added high-def clips from sources as varied as a new Flip MinoHD and an older Panasonic HDC-SD1 camcorder.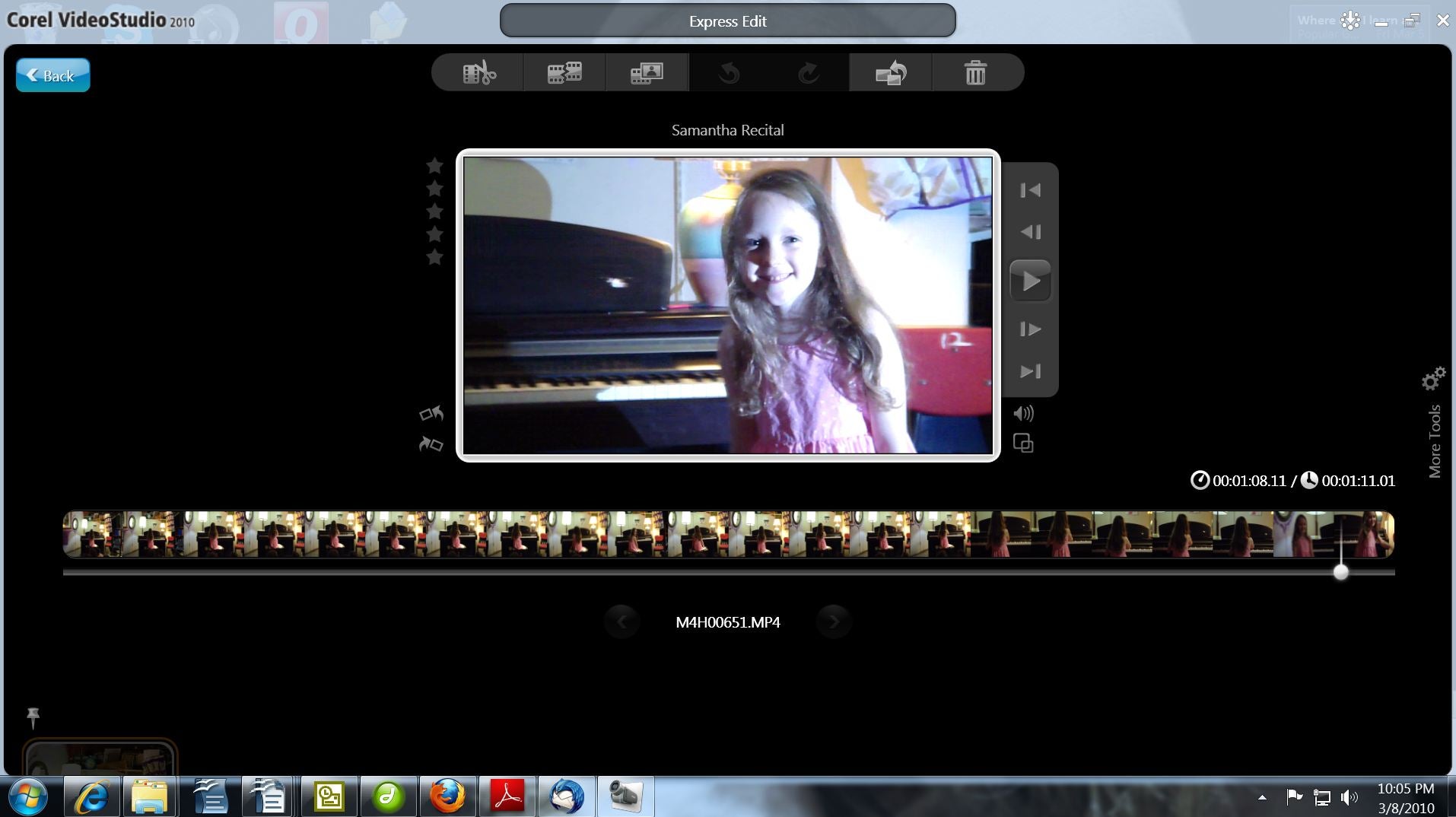 Neophytes will want to go straight to Corel's Easy Edit feature (aka VideoStudio Express), which allows you to trim and stitch together your clips quickly without worrying about separate tracks, special effects, or other distractions. Just import your video, create, and share. The creation portion involves simply choosing a title, a format (standard or high definition), and one of a half dozen or so templates. Then you drag and drop the clips you want into the creation space, and the program does the rest. Adobe Premiere Elements and Pinnacle Studio have similar instant-movie features, but I found Corel's a little more straightforward.
The advanced-edit section of VideoStudio–which offers a timeline or storyboard view–has added a few new tricks. The one Corel is touting the most is RotoSketch, which automatically traces the outlines of a video clip to create an instant animation; all you have to do is drag the FX icon and drop it on the clip's thumbnail (the feature also works on still images). The result is something akin to a scene from Sin City. It's nifty, but not something you're likely to use on a regular basis.
More useful is the beefed-up titler, which can now handle a variety of effects so that titles can ripple or flow across the screen (although there's a temptation to get carried away with this, too). The software includes more than a dozen fonts and stock plates, with promises of more free, downloadable options in the future.
To that panoply of choices Corel has also added some special effects (or "filters") from NewBlueFX. One is a detail enhancer that sharpens fuzzy shots; another is a sort of reality-TV effect that gives overly sharp footage a cinema verité, jittery look. But the real eye-catcher is a picture-in-picture animation option that allows users to rotate a clip on the horizontal or vertical axis. Again, it's not something you want to apply to every single birthday party video, but it will add some pizzazz if you exercise caution.
As for convenience features, podcasters will like the fact that the app can save a stock opening to a show for later reuse (effects, music, and all). The program can also import Flash animations. And when you're editing stills in a slideshow, a 'copy attributes' option applies a single change to all the images you choose. VideoStudio also does an excellent job of integrating SmartSound background music–for example, letting you pop open a dialog box and adjust the instruments in the free mood music ("Island Party" or "Motor City Jam"?) on the fly. Lastly, for those users who need to coordinate work on different computers, the software will let you store the latest changes from, say, an office computer on a USB stick and then sync the changes on a home machine later.
If there's an area where Corel falls down, it's the lack of additional hand-holding for novices. The online step-by-step help files are adequate, but some free online video tutorials would go a long way toward helping folks make the transition from the easy-edit level to the advanced-edit stage.
Whereas programs like the comparably priced Adobe Premiere Elements can sometimes seem inflexible, Corel VideoStudio tries its best to be accommodating. You can burn HD video in the Blu-ray format onto a DVD disc, for instance, and the package includes all of the features of Corel DVD Factory, so you can record on DVD in standard definition or in AVCHD, or burn a true Blu-ray disc (if you're lucky enough to have a burner). Tweak freaks can also adjust and customize menus and menu transitions in innumerable ways (including support for Blu-ray Java). The program will even normalize all the audio for you (in Dolby Digital Audio) with a click of a button.
For sharing, VideoStudio lets you post directly to Facebook, Flickr, YouTube, and Vimeo in HD. And you can convert ( "transcode" in editing parlance) your cinematic efforts into compressed clips that you can output to a connected iPod Touch (just in case you want to regale a stranger on a plane with videos of your 2-year-old).
As good as Corel VideoStudio Pro X3 is–and even though I found it more stable than much of the competition–it's not likely to knock Adobe Premiere Elements off its pedestal. Ingrained habits are hard to break. On the other hand, if you're new to editing video, VideoStudio is a solid, easy-to-learn alternative that won't disappoint.