Apple is reportedly removing iPhone, iPod, and MacBook screen protectors from its online and retail stores, just a couple of weeks before the iPad hits the stand.
According to Macworld, the new policy also includes the removal of antiglare films, protection and cushions for laptop palm areas, and iPhone or iPod cases that include screen protection (whether this means the cases include protective film, or actually have built-in screen protection is not clear).
Apple has yet to reveal the reason it is pulling protective products from its shelves. A popular speculation is that Apple wants to promote the idea that its product's screens are sturdy enough that they don't need to be protected (even though anyone who's ever dropped an iPhone knows this is far from the case). That's no explanation for why Apple is also banning antiglare, mirrored, and privacy film, unless they also hope to promote the idea that their screens are easy to read in the sun, can double as mirrors, and have magical privacy properties.
Another speculation is that the products, while popular, are hard to apply and thus have a higher rate of return than other products.
Of course, protective screen coverings will still be available through other channels, just not through Apple's Website or its retail stores (though a quick jaunt down to the San Francisco Apple Store tells me that said products are still available). This may significantly increase outside sales of screen protectors, as screen protectors are currently one of the most popular "cases" for iPods and iPhones.
While Apple's ban on screen protectors is kind of strange, it makes sense. Speaking as someone who has gone through my share of touchscreen devices (starting with my Verizon LG Dare), screen protectors are mostly just a waste of money–for both the consumer and the retailer. So perhaps Apple is just looking out for you, consumer–making sure you don't waste your money. Er . . . yeah.
Screen protectors are notoriously hard to put on perfectly, even if your job is to put screen protectors on perfectly (mine isn't, but I once got a cell phone technician to attempt to put one on). I've gotten pretty close to decent (okay, I'm not a great example), only to find my hard work bubbled up in less than a week. And, yes, I have returned many a screen protector for its failure to apply decently. So Apple's removal of screen protectors from its stores for economic reasons sort of makes sense, as they do have a high rate of return. That said, there are plenty of lazy people would rather just live with a crappy screen protector than return it (or who think such a product can't be returned), so it's still likely that Apple is more than breaking even.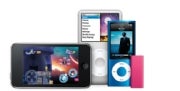 Apple products are far from "sturdy," but the latest iPhone and iPod Touch screens are surprisingly resistant to, well, everything — from finger oil to water to barbecue sauce, and don't scratch very easily. Even my iPhone 3G (without the "oleophobic" screen) is pretty resistant to scratches. If anything, your iPhone 3GS screen is more likely (okay, it's very, very likely) to break if you drop it than it is to get scratched. And, well, a screen protector certainly won't help you guard against that (doesn't that make you feel better?).
Macworld points out that it's probably no coincidence that Apple is pulling screen protectors right before the introduction of the iPad — but why? Could Apple be thinking of debuting its very own line of (OLEOPHOBIC) screen protectors?
Apple had not responded to a request for comment by the time of this post.