Apple could sell more iPads in the first three months of availability than it sold original iPhones in the same period, according to sources quoted by the Wall Street Journal. "Hundreds of thousands" of units have already been pre-ordered, says the report, with strong demand ex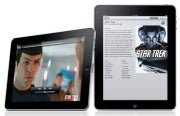 pected at launch.
Apple is preparing to roll out the iPad on April 3, and the company's hype machine is in full swing, as none of the presumed buyers have seen or touched the device but are handing over their cash based largely on the promotional material on Apple's Website.
The numbers claimed by WSJ's sources are similar to estimates that surfaced early in the week, which say that pre-orders for the iPad are nearing 200,000, with 10,000 advance requests accrued daily. However, Apple is keeping mum and has not confirmed any of these speculated numbers.
Apple sold 1.2 million original iPhones back in 2007 when it launched the handset, and the WSJ report says the iPad could outperform this number if demand keeps steady. Despite this, the success would be able to be gauged only in a few months, possibly just before the next-generation iPhone is introduced.
But there is still a lot of work to be done before the iPad comes out, as an interesting tidbit from the WSJ story claims Apple is still trying to secure media content for its upcoming tablet.
It's not a secret the Apple has been negotiating with media companies to make plenty of content readily available for the April 3 launch. Newspapers, magazines and eBook deals are on the table, and the last bastions to be conquered by the iPad are the TV networks, from which Apple is trying to get low-price deals on TV shows.
It will be interesting to see though what sort of media deals other manufactures preparing iPad alternatives will come up with. For example, Dell's Streak tablet is expected to offer books, music and movies downloads, all from Amazon's online store.