OK, what genius at Google came up with the "Nexus One" name for the company's first smartphone? The moniker has been giving the company nothing but headaches since the device debuted in January.
The United States Patent and Trademark Office (PTO) recently denied Google's trademark application for "Nexus One" because Portland, Oregon-based Integra Telecom already has rights to the name. As first reported by TG Daily, the small telecommunications company registered "Nexus One" two years ago and uses it for its telecom services.
"Integra does have trademark rights to 'Nexus." Integra Telecom spokesman John Nee told PC World via e-mail. "We appreciate that the PTO is protecting our trademark rights. Integra Telecom has over $60 million in annual revenue associated with our Nexus brand."
Integra is willing to negotiate, however. According to Nee, Google hasn't contacted his company since the PTO decision. But he hopes the two companies "can work together to achieve our respective business goals."
Nee has yet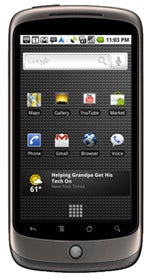 to respond to a follow-up e-mail from PC World asking if Integra Telecom would accept financial compensation for the "Nexus One" trademark rights.
Google plans to fight the PTO ruling.
"We continue to claim rights to the Nexus One trademark in the United States, and plan to respond to the office action from the United States Patent Trademark Office," a company spokesperson told PC World.
This isn't the first time "Nexus One" has given Google trouble. Soon after the phone's launch, the family of late science fiction author Philip K. Dick asked Google to stop using the "Nexus One" name, which it says is too similar to the Nexus 6 cyborgs that appear in Dick's novel "Do Androids Dream of Electric Sheep?"
Contact Jeff Bertolucci via Twitter (@jbertolucci) or at jbertolucci.blogspot.com.