Google isn't exactly known for its respect for privacy, but a recent blog post shows the search giant may be attempting to turn a new leaf on what has been called an "irresponsible" stance on user privacy. Maybe.
The Google Analytics team has been working to give users a choice on how their Internet browsing data is collected by the analytics and marketing tool, according to a blog post by Amy Chang, group product manager.
"We concluded that the best approach would be to develop a global browser based plug-in to allow users to opt out of being tracked by Google Analytics," Chang said in the post. She said the plug-in is being tested by engineers and should be globally available "in the coming weeks."
Sure, more privacy always sounds great from a user standpoint, but analytics tools typically are used to the benefit of consumers whose privacy is being "violated." What's more: the information that's collected isn't generally made public and is only given to folks who operate the particular Web site.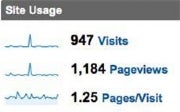 Allowing users to opt out of Google Analytics monitoring could prevent companies from understanding how long users are spending on their sites, where they are coming from, and what they are looking at. Ultimately it could prevent sites from becoming more profitable and offering users more of what they want.
I'm not saying that people don't have rights to privacy online or that they shouldn't be able to surf the Net unnoticed. I'm just saying most privacy concerns are generated when someone's private information is made available to the general public, a la Facebook, Google Buzz and Google Street View. This isn't necessarily the case with Google Analytics.
Either way, Google Analytics' move is a far cry from Google CEO Eric Schmidt's famous saying: "If you have something that you don't want anyone to know, maybe you shouldn't be doing it in the first place."