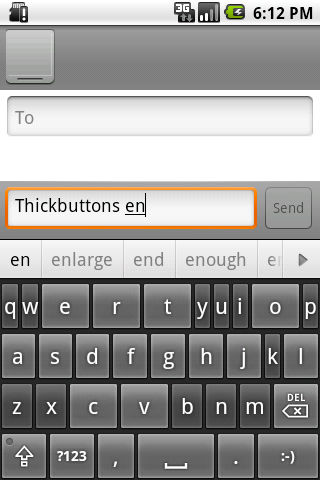 I don't have many issues with the Android platform, but I do have one major gripe: The native software keyboard is the pits. The keys are just too narrow for comfortable, error-free typing and the prediction technology just isn't as on-target as say, the iPhone's. So when I heard about ThickButtons, a new Android keyboard application, I was anxious to give it a spin.
Using an algorithm, ThickButtons shrinks the letters that are not likely to be used and enlarges the buttons that are. So the app basically predicts by letter; most other dictionary-based prediction technologies predict by word. How many times have you tried typing a name or a vernacular term and have had your phone predict a totally different word? It can be hilarious-but mostly frustrating.
I tried ThickButtons on both the Nexus One and the T-Mobile myTouch 3G. I was particularly pleased with the experience on the myTouch: Typing on the somewhat small 3-inch display was a breeze! My large-hand colleague who normally loathes typing anything more than a few words on his Android phone found it to be a major improvement as well. The letters enlarge enough so anyone–with any hand size–can easily type. I also found the algorithm to be fairly accurate as well. If ThickButtons doesn't know a word, it will turn off and appear as a regular keyboard. But once you've entered the word, it will be automatically registered in the dictionary.
A free download, ThickButtons version 0.6 for Android is now available at the Android Market or at http://www.thickbuttons.com. After you've downloaded and installed ThickButtons, you must enable it as an input method by going to Settings > Choose Language & Keyboard > Activate "ThickButtons." Currently, ThickButtons is only available in English, but the company says they're working on versions for most "major languages." ThickButtons is also developing a version for Windows Phone Series 7.