Facebook recently surpassed Google as the top destination on the Web. Granted, the victory only represents one week, but with traffic on par with Google, and membership exceeding 400 million users, Facebook is primed to challenge the vast Google empire for online advertising dollars.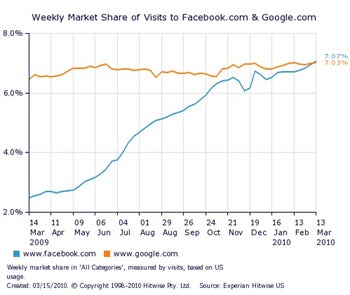 According to a blog post from Heather Dougherty, research director at Hitwise, "The market share of visits to Facebook.com increased 185 percent last week as compared to the same week in 2009, while visits to Google.com increased 9 percent during the same time frame."
If the numbers alone don't make the point, one look at the graph depicted on the blog post illustrates that Facebook is on a steep growth curve while Google is more or less stagnant. Far from being a fluke spike, the Facebook traffic has steadily grown as has Facebook membership–making Facebook an increasingly fertile territory for small and medium businesses looking for targeted online marketing opportunities.
In a press release earlier this year, Adam Bunn, head of SEO for search engine marketing firm Greenlight, said "Microsoft and Yahoo! finalized their tie-up in early December, shortly after the competition regulators in Canada and Australia approved the deal. Greenlight expects other countries to follow suit, paving the way to integration before the year is out. That will mean that Bing powers the natural search results for Yahoo!, while Yahoo! handles advertising for Bing, leaving the search landscape a two horse race. "
Bunn's prognostication doesn't seem to consider the dark horse in the equation: Facebook. There is a key difference between Facebook and Google (or Bing) that arguably makes Facebook the better investment for small business advertising dollars. Facebook is a social network and its traffic is generated by users who are connected, and more invested in spending time on the Facebook site.
Heather Hopkins, a senior online analyst with Hitwise, recently noted "visitors from Facebook.com are more loyal to News and Media websites than are visitors from News.Google.com. In particular, among the top 5 Print Media websites in the week ending March 6, 2010, 78 percent of Facebook.com users were returning visitors compared to 67 percent from Google News."
Facebook users are there to share–and share they do. Valuable marketing data. Willingly. Small and medium businesses can capitalize on the fact that Facebook members provide information like birth date, geographic location, age, hobbies and interests, education level, and–most importantly–their connected network of friends.
Google is able to target ads fairly well based on keywords and personalized search history, but ads targeted based on demographics and geography have the potential to be much more compelling for the user. Aside from targeted ads in the margin of the Facebook page, businesses can also set up a Facebook "fan" page to provide a sense of community and participation that connect users to a broader experience than a simple ad.
Google has a vast array of online entities to deliver ads through: Gmail, YouTube, Google Docs, etc. It also has Google Buzz, and Google Wave (they are still working on that, right?) to jump on the social networking bandwagon and recreate a similar connected community of users. And, Google is working aggressively to capitalize on the growing market for mobile-based ads.
Facebook may not threaten the Google ad empire as a whole any time soon, but it's hard to argue with the potential marketing impact Facebook offers small and medium businesses with limited advertising budgets.
Tony Bradley is co-author of Unified Communications for Dummies . He tweets as @Tony_BradleyPCW . You can follow him on his Facebook page , or contact him by email at tony_bradley@pcworld.com .