The term "quantum leap" has a double meaning for technology that promises to overhaul cell phone cameras.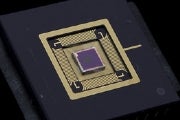 InVisage Technologies, a company based in Menlo Park, California, says its new camera tech could improve mobile phone photo quality fourfold, allowing higher megapixel counts and better low-light images, The New York Times reports. The technology is still in the lab stage, but InVisage wants to build its own sensors and sell them to cell phone makers within the next 18 months.
The CMOS image sensors in most of today's cell phone cameras have a major limitation: Their underlying silicon chips can only capture roughly one quarter of the light that enters through the camera lens. InVisage's QuantumFilm technology consists of "quantum dots," semiconductor particles that could capture 90 percent to 95 percent of incoming light, according to VentureBeat. InVisage wants to spread those dots in a film across traditional silicon chips to boost their efficiency.
I love hearing news like this, because I have an ax to grind with compact digital cameras. They're too bulky for my pants pockets, which are already occupied by keys, a wallet, and a cell phone anyway. I've been known to sacrifice the image quality of a digicam because snapping photos on the iPhone is more convenient. It'd be better if that compromise wasn't necessary.
For most people, compact digicams will hold an advantage over cell phone cameras for a long time, thanks to their capability to feature long zoom lenses and recent innovations like front-facing LCDs and built-in projectors. But with the popularity of feature phones and rapid growth of smartphones, the stage is set for cell phones to be good enough on most occasions. Plus, they've already got features like online sharing and geotagging, which not all digicams can do.
For folks like me who want fewer devices that can do more, InVisage's quantum tech can't come soon enough.