Want to create a custom video, the kind with photos, video clips, and music? Normally, it's a time-consuming and/or expensive hassle.
You can use Microsoft's Windows Live Movie Maker free of charge, but it's pretty limited–and kind of a pain in the neck, in my humble opinion.
You could also spend upwards of $100 on a movie-editing package like Adobe Premiere Elements of Pinnacle Studio. But those are big, complex apps–and like Movie Maker, they have to be installed. Surely there must be some kind of cloud-based solution?
There is, and it's called Animoto. This cool service makes moviemaking embarrassingly quick and easy, and the results look like something that took days or weeks to create in a commercial movie-editing program.
It's a three-step process. First, you upload your photos and/or videos. If your stuff's already online somewhere else, no problem: Animoto can pull media from Facebook, Flickr, Picasa, and other sites.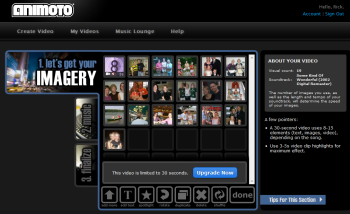 Second, choose your music. You can upload a favorite MP3 or choose a track from Animoto's extensive (but mostly indie) library.
Finally, select a pace for your video: normal, half speed, or 2x speed. With that done, Animoto goes to work, assembling everything into a seriously slick music videos, complete with titles, transitions, and special effects. Don't like the finished product? You can make changes manually or just let Animoto have another whack at it–it'll generate different results every time.
When you're satisfied with the results, you can share the video via the usual methods (Facebook, Twitter, e-mail, etc.), or download it for your own use.
I like Animoto's pricing options a lot. You can test-drive the service for free, but that limits you to a 30-second movie. If you want a full-length flick, you can buy that for just $3. Or, if you see yourself using Animoto a lot, $30 buys you a one-year membership (with all the videos you care to make).
Whether you're looking to have a little video fun or produce something meaningful for a special occasion, Animoto takes virtually all the hassles out of traditional movie editing.