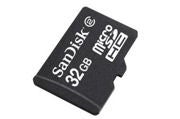 SanDisk today announced a removable memory card for mobile phones that offers a whopping 32-gigabytes of storage–not too shabby for a device that's roughly the size of a thumbnail. The new microSDHC 32GB card doubles the storage capacity of the vendor's 16GB microSDHC offering, which debuted just over a year ago. The bad news is that the 32GB model costs $200, or nearly four times the street price of most 16GB microSDHC cards.
So what can your smartphone do with 32 gigs? If you're listening to music, that's enough memory for more than 35 round-trip flights between San Francisco and New York–at least 175 hours–without repeating a single song, according to SanDisk. And a microSDHC 32GB card also opens the door to storage-intensive video applications, provide your phone's camera and/or display are up to the task. For instance, if your handset has a crappy 2-inch display, you're probably not going to use it to watch HD movies, even if the storage capacity is there.
To shoehorn 32-gigabytes into the tiny microSDHC form factor, SanDisk used a 32-nanometer (nm) process that produce a 32-gigabit, 3-bits-per-cell (X3) memory chip. The ultra-high density and tiny footprint of the 32nm X3 die makes the production of higher-capacity microSC cards possible, the company says.