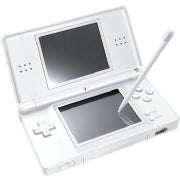 Nintendo announced on Tuesday that it is developing a 3D-capable version of its Nintendo DS mobile gaming device, tentatively named the Nintendo 3DS. Nintendo says that the portable gaming machine won't require any special glasses to view 3D images, and that the devices will hit store shelves before the end of the company's current fiscal year, ending March 2011.
Beyond that, however, there's very little information about Nintendo's plans. So, here's what I'm wondering:
What will glasses-free 3D mean?
Most of the development work on glasses-free 3D has been directed at high-definition televisions and computer monitors. Usually, special glasses are needed to separate the onscreen 3D image into two sections (one special lens for each eye), but now some companies are developing screen overlays that do this work. But this technology typically requires you to be in one specific position in front of the screen to view the 3D image. Move away from that 'sweet spot' and the 3D effect is lost. Some companies, like Singapore-based Sunny Ocean Studios, are developing screen overlays that make it possible to view a 3D image from more than one angle.
So what kind of overlay will the Nintendo 3DS use? Will you be able to see the image from multiple angles and share the 3D fun with people watching you play video games over your shoulder, or will the 3D image be viewable from one angle only?
It should be noted that there are other solutions to glasses-free 3D, but most of them require a camera to monitor the viewing angle of the user, and don't look very practical for a mobile gaming device.
When will we see the Nintendo 3DS?
Nintendo has not announced a specific launch date, but you can expect the Nintendo 3DS to hit store shelves within the next twelve months, according to a company press release. However, it's not clear whether the device will be launched in Japan first, followed by a later U.S. release, or if the 3DS will be released worldwide within the next year.
Nintendo plans to announce more information about the Nintendo 3DS during the 2010 Electronic Entertainment Expo (E3). E3 runs from June 15-17 at the Los Angeles Convention Center.
What about legacy issues?
Even though moving to 3D sounds like a major technology jump–which typically causes issues for backwards compatibility–Nintendo says the 3DS will be fully backwards compatible with Nintendo DS and DSi games.
How much will the 3DS cost?
Nintendo has not announced any pricing for the 3DS, so it's not clear yet how much the new mobile gaming console will cost.
Will the DS get a form factor overhaul?
Since the 3DS will reportedly be backwards compatible with older Nintendo DS games, I'm guessing the company is going to stick with the dual-screen with stylus format of the DS. But I wonder if it wouldn't make more sense for Nintendo to develop something with a single, bigger screen that looks more like the Sony PSP (or the old Nintendo Gameboy Advance) than the current versions of the Nintendo DS.
Then again, the DS dual-screen form factor has been wildly popular with users. Nintendo says it has sold more than 125 million DS and DSi units since introducing the gaming device in 2004, and the company is launching its Nintendo DSi XL in the coming weeks. So perhaps it's wiser not to mess with success. I just hope the screen is large enough to really show off all that 3D image rendering.
Connect with Ian on Twitter (@ianpaul)