"Lucid Lynx" is the codename given to Canonical's Ubuntu Linux 10.04, now in beta, which adds social networking features and a new look to the popular Linux distribution. A final release is due April 29, the company said.
The new "LTS" release is intended for long-term use and will be supported for three years as a desktop OS and five years on servers, Canonical said. It was released late last week for desktop, netbook, and server use and may be downloaded here.
"Like any LTS, 10.04 will offer more stability features than new features," said Cole Crawford, CTO of Autonomic Resources, a federal cloud computing provider and services integrator based in Cary, N.C.
Despite its stability focus, Crawford said the release includes interesting features for both desktop and server customers.
Social Networking Features
Desktop social networking support is implemented through integration with Gwibber, an open-source microblogging client that supports nine services, including Twitter, Facebook, Digg, Flickr, and FriendFeed. The Gwibber technology appears to users through a new MeMenu added to the operating system user interface.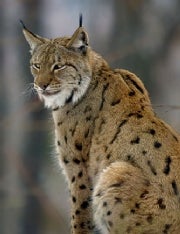 The OS ships with Firefox 3.6, but changes the default search engine from Google to Yahoo, as part of a revenue sharing arrangement between Canonical and Yahoo. Also included is the OpenOffice 3.2 open source productivity suite.
Canonical warns that the beta should not be installed on production systems. A full list of features and known bugs is available here.
Lucid Lynx's desktop version also integrates Canonical's Ubuntu One (U1) music store, now in limited beta test. The store will allow users to purchase music through Rhythmbox, the default music player for the operating system.
Desktop Update
The desktop design has also been updated, specifically brightened to replace the former brown Gnome design with themes called "Ambiance" and "Radiance" that are intended, along with new logos, indicators, and wallpapers, to brighten the user desktop.
For the server, Crawford welcomed the integration of cloud computing features and improved security into the operating system.
"They are focusing on the cloud and as a reseller we are very happy to see that," Crawford said. "We think integration of cloud technologies within the UI, as well as Canonical's focus on security, will be important for the federal government customers that we serve."
Available now as a beta version, Canonical expects to offer a production release of the operating system on April 29.
David Coursey has been writing about technology products and companies for more than 25 years. He tweets as @techinciter and may be contacted via his Web site. He welcomes comments on this blog below.