Google Voice on Android has just gotten a lot more powerful.
Google rolled out an upgrade to its Android-based Google Voice application on Tuesday, and the new version is no small change. For the first time, it allows you to receive text and voice messages instantly as they arrive, with push-like notification.
In other words, the wait is finally over.
Google Voice For Android: The Real-Time Edition
Google Voice 0.3.2 for Android is the service's first mobile app to feature real-time functionality; previously, the program would check for new messages only once every 15 minutes. (You could get around this with a creative mail-forwarding trick, but it was far from a perfect solution.)
Now, though, the problem is solved. Google's updated Android app introduces a feature called "inbox synchronization." Once activated, any incoming messages are displayed within seconds of their arrival. And based on my early tests, it works flawlessly.
If you aren't an Android fanboy yet, now may be the time to make the leap.
Getting the New Google Voice For Android
There are a few steps you need to take to get the new real-time service on your Android phone. This is all assuming you already have a Google Voice account, by the way; if you don't, you'll need to go to the official Google Voice page and request an invite before you can proceed.
First, head into the Android Market and download the Google Voice app update. Once it's installed, open the app and look in the "Settings" menu, found by tapping your phone's Menu key and selecting the "Settings" option.
From there, tap "Refresh and notification," then check "Synchronize inbox." That's it: You're now all set, and your incoming Google Voice messages will pop up instantly as they come in. Just make sure your notifications — located within that same menu — are configured correctly so you'll get the kind of alerts you prefer (ringtone, vibration, flashing light, etc).

Two quick tips: If you get an error the first time you try to activate the "Synchronize inbox" option, exit the app completely by pressing your phone's Back key until you're back at your home screen. Open the Google Voice app again, and you should be golden.
And if you had your Google Voice account set to send SMS notifications of new messages, be aware that activating the new synchronization option will automatically turn that off. If you want it back on, just log on to the main Google Voice Web site and reactivate it from there.
More Google Voice Android Power
The updated Google Voice Android app brings one other noteworthy change: It adds integrated contact information into the Google Voice inbox. That means you can access options to e-mail or IM any contact simply by tapping on their photo while in the Google Voice inbox.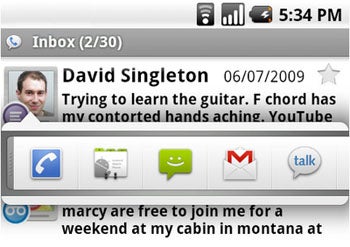 I'd recommend using this feature to reach out to all your iPhone-toting friends and gloat.
JR Raphael frequently covers mobile technology for both PCWorld and eSarcasm, his geek-humor getaway. He's on Facebook: facebook.com/The.JR.Raphael