As of Thursday, Verizon and Skype will make good on the promised partnership announced at the Mobile World Congress in Barcelona last month. Using another industry conference, the CTIA show in Las Vegas this week, Verizon announced that Skype will be available for nine different smartphones this week, with more to come.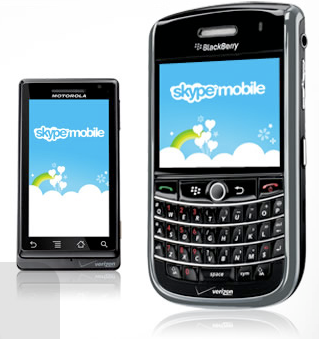 Businesses of all sizes–but small and medium businesses in particular–operate on increasingly tight budgets. Communication with peers, customers, partners, and suppliers is the lifeblood of business, though, so businesses need to figure out ways to maximize the bang for the buck from the communications budget.
Leveraging VoIP, such as the Skype app, from a smartphone can help achieve that goal. Here are four key considerations that make the Skype-Verizon alliance good for business professionals.
Always On
There is a Skype app available for the iPhone as well. The problem with the iPhone Skype app, though, is that it's not designed to multitask and continue running in the background as you use the iPhone for other things, or while the iPhone is idle. It works fine to open the Skype app and place an outbound Skype call, but there is no way for others to call or IM you on Skype unless you are actively logged in to the app.
Not so on Verizon. The Skype Mobile app for Verizon smartphones is always on–capable of sitting idle in the background as you use your device for other things. Skype contacts will be able to see your presence and call or IM you via Skype.
VoIP over 3G
Another drawback of the Skype iPhone app is that it only works over the Wi-Fi network–at least for now. AT&T and Apple have been under regulatory scrutiny for rejecting the Google Voice app, and restricting the ability for Skype or Vonage to place VoIP calls over the 3G network. AT&T eventually relented and reversed its position, but the Skype app hasn't been updated to reflect that policy shift.
Skype Mobile on Verizon will route calls over the Verizon 3G voice network. Business professionals get the advantage of clear calls on a network built for voice, Verizon gets the benefit of handling Skype call volume with no impact to the available bandwidth of its data network.
Calls without Minutes
One of the fringe benefits of using Skype Mobile on Verizon is that the Skype calls do not impact the available minutes on either the calling plan, or the data plan. Skype Mobile users are able to place and receive Skype-to-Skype calls over the 3G network on Verizon without using up minutes or bandwidth. In theory, business professionals that use Skype extensively could scale back the service plan, and save some money without reducing the productivity potential of the smartphone.
International Calls
One of the areas that VoIP has always excelled is that it offers a significantly more cost-effective option for international calls. Vonage provides its small business VoIP customers free unlimited calls to many countries as a function of the base calling plan, and the Vonage Mobile app service includes unlimited calls to land lines in 60 countries. You won't find that deal with your standard wireless plan.
Skype Mobile users on Verizon will be able to place international calls via Skype which has a lower per-minute charge than Verizon. Business professionals that do a lot of international work can realize significant cost savings from this feature alone.
John Stratton, executive vice president and chief marketing officer for Verizon Wireless, summed up the relationship in a press release, "Skype mobile on Verizon Wireless changes the game. For Verizon Wireless' more than 90 million customers, Skype mobile adds great value because we're effectively giving customers with smartphones and data plans the option to extend their unlimited calling community to hundreds of millions of Skype users around the globe."
Tony Bradley is co-author of Unified Communications for Dummies . He tweets as @Tony_BradleyPCW . You can follow him on his Facebook page , or contact him by email at tony_bradley@pcworld.com .