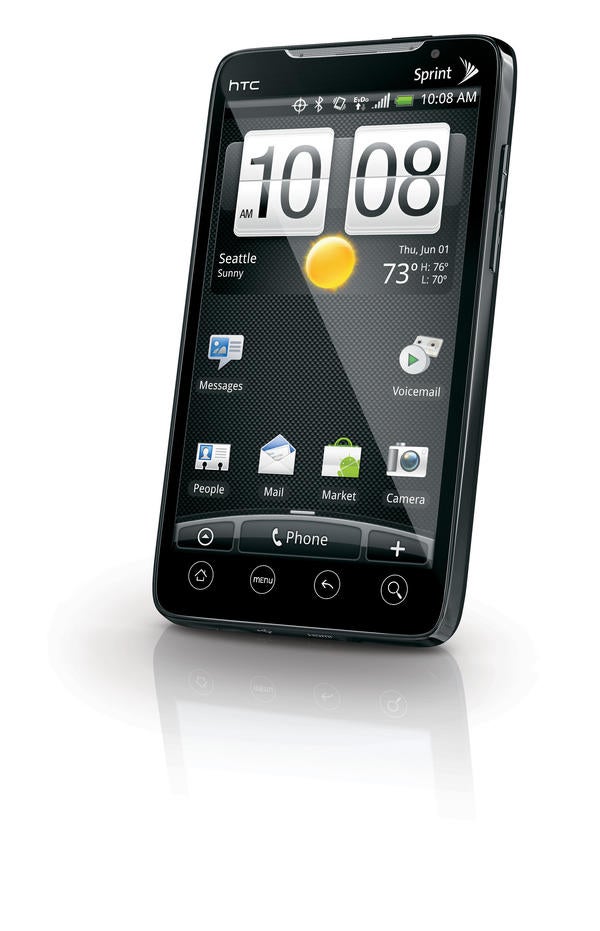 At least on paper, the HTC EVO 4G from Sprint absolutely crushes. It's not just one killer feature that puts the EVO over the top; the spec sheet reads like a wish list for anyone who's owned a touchscreen smartphone. We won't find out until this summer whether Sprint's exclusive 4G phone makes the best of its features, but in the meantime, here are five things to get excited about:
4.3-Inch Touch Screen
Only one other Android phone has a screen that comes close, the newly announced Samsung Galaxy S, which has a 4-inch touch screen. HTC has tried the 4.3-inch format before with the HTC HD2, but that phone loses points for running the soon-to-be outdated Windows Mobile 6.5. Sprints promise of downloading, watching and editing high definition content on the EVO makes the large screen even more enticing.
Two Cameras
It's about time we saw this feature on a high-end smartphone. On the back the EVO is an 8-megapixel camera–itself an impressive bullet point–for photos and "HD-capable" video capture. There's also a 1.3-megapixel front-facing camera, presumably for video chat and self portraits. Please let this become a standard feature on smartphones to come.
"Leap" to Multitask
As you'd expect, HTC layers its Sense user interface on top of Android 2.1, but with a new feature called "Leap." This is a multitasking manager that reveals every open program when you pinch anywhere on the phone's home screen. It's an idea that's begging to copied–fodder for a future patent lawsuit, perhaps?
The Kickstand
When a phone has a large screen for viewing HD content, it ought to have a kickstand for propping the screen upright on a table or desk, as the EVO does. It may seem insignificant, but long flights are already uncomfortable enough without craning your neck downward to see your phone's screen.
4G, of Course
The feature that gets top billing in the HTC EVO 4G is the one you're least likely to use for a while. Yes, the phone works over Sprint's budding 4G network, which makes for some impressive download speeds. Unless you're in one of the 27 cities where Sprint has already rolled out the next generation of mobile broadband, or one of the 15 that will come online this year, you'll rely on plain-old 3G instead. But think of it as future-proofing. You'll probably be stuck with a two-year contract anyhow.