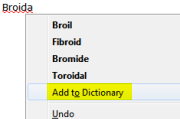 One of the things I love most about Firefox is its built-in spell checker, which displays a squiggly red line under misspelled words typed into Web forms, Google Docs, and most other data-entry areas.
However, like most spell-checkers, it constantly flags my last name. And various brand and product names it doesn't recognize. Depending on what I'm writing, I can end up with one seriously squiggly-heavy document.
Thankfully, it's a cinch to add unrecognized words to Firefox's dictionary. That way, it won't pester you by flagging words you know are spelling correctly. (Of course, it will flag them if they're spelled incorrectly.)
Just right-click any mispelled word, and then choose Add to Dictionary. Complicated, huh?
Now, if you accidentally add a misspelled word to Firefox's dictionary (hey, it happens to the best of us), you can take it out by manually editing the dictionary file. Lifehacker explains how.