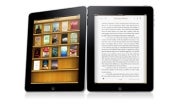 Over 30,000 classic book titles will be available for free in Apple's iBookstore when the iPad arrives on April 3, according to a report from AppAdvice. The e-books will come from Project Gutenberg's free digital library, alongside paid titles from most major publishers.
The volunteer-supported Project Gutenberg, which digitizes literature in the public domain (out of copyright), will bring its library to the iPad for free, according to a photo showing Apple's iBookstore. The e-books will be DRM-free, while paid titles will be wrapped in Apple's FairPlay DRM, as previously reported.
Apple's move to bring the free titles from day one on the iPad is believed to head off any attempts from third parties to profit on literature in the public domain. The 30,000 free titles will also bulk up the iBookstore library, until publishers add more paid e-books.
(Image below is from AppAdvice.com, which had the scoop )
The iBooks app will not come preinstalled on the iPad. Users will have to head to the App Store and download it free of charge. The app will be compatible with ePub format e-books, and according to an e-mail from Apple CEO Steve Jobs to a user, you will be able to add other free, non-DRM titles from iTunes as well.
Many paid titles in the iPad iBooks store will also match the price of their Amazon Kindle equivalent, another report from AppAdvice says. This raised a few eyebrows, as Kindle books publishers were reportedly in a price spat with Amazon last month, over the $9.99 e-books price point.
Apple is believed to have negotiated initial discounts with publishers for when its iPad launches, hence some titles match the Amazon pricing scheme. Considering that both Amazon and Barnes & Noble will have their own e-book storefronts on the iPad as well, Amazon prices are still the lowest per total, according to Kindle Review.