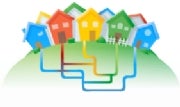 Cities and towns that want a piece of Google's high-speed fiber optics network will have to hang on for a little longer, as Google won't be announcing its target communities until the end of 2010.
In a blog post, Product Manager James Kelly laid out the next steps for Google's broadband plan, which aims to deliver 1-Gigabit Internet connections to home users. Over the next few months, Google will whittle down the list of responses from more than 600 communities and 190,000 people. Google will then visit potential communities to meet with local officials and third-party groups.
By year-end, Google will announce the final list of communities, but Kelly didn't say how long it'll take to get the service online after that. The company also remained vague on the number of people that will be served, saying it hopes to reach "at least 50,000 and potentially up to 500,000 people with this experiment."
The announcement of a Google broadband service generated some extreme responses from cities and individuals. Topeka renamed itself to Google, Kan., for the entirety of March. Sarasota, Fla., became "Google Island," and Rancho Cucamonga (a great name to begin with) launched a campaign called "Rancho Googlemonga." Don Ness, mayor of Duluth, Minn., jumped into Lake Superior, and Sarasota's mayor swam in a shark tank.
"If one message has come through loud and clear, it's this: people across the country are hungry for better and faster Internet access," Kelly wrote on the Official Google Blog.
Kelly's blog post didn't contain much substantial news; there are still plenty of questions and concerns Google hasn't answered, ranging from the cost of implementing the plan to the nuts and bolts of providing tech support for customers. For now, Google wants the communities that responded to its request for information to know what's happening next.