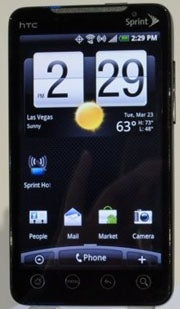 Sprint's new HTC EVO 4G smartphone is being hailed as the new ruler of the Android empire. But has the crown really been passed?
The HTC EVO 4G, unveiled at the CTIA Wireless exhibition this week, sure has a feature-list fit for a king. The phone boasts a 4.3-inch capacitive touchscreen with HDMI output, dual front- and back-facing cameras, and a superspeedy 1GHz Snapdragon processor. Oh yeah — and there's that whole 4G thing, too.
Hang on, though: Wasn't the Android throne just overtaken a couple months ago? Google's Nexus One, after all, was widely seen as stealing the top spot from Motorola's once-dominant Droid. (That's speaking primarily from a specs perspective; the sales figures actually paint a different picture.)
So with the HTC EVO 4G almost in the wild, is the Nexus One doomed to become a has-been? Consider these comparisons and decide for yourself.
HTC EVO 4G vs. Nexus One: The Display
It's hard to miss all the gushing over the HTC EVO 4G's display, and there's a reason for the excitement: The phone has one sweet screen, and you don't have to be an Android fanboy to see that. The EVO 4G's 4.3-inch display beats the Nexus One's 3.7-inch offering (which beat practically everything else back when it debuted). Both devices feature the same WVGA resolution: 800-by-480.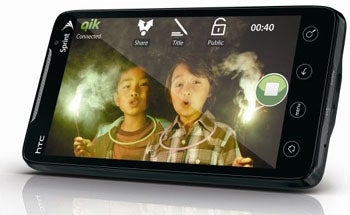 HTC EVO 4G vs. Nexus One: The Data Network
Sprint's biggest selling point with the HTC EVO 4G is all about those final two characters. A 4G data connection, according to Sprint, brings you download speeds as much as 10 times faster than what you'd get on a flimsy old 3G alternative.
But — and this is a big but (you're welcome, Sir Mix-a-Lot) — you won't be able to get those tasty 4G connections in much of the country. So far, Sprint's 4G network is available only in 27 U.S. cities. The carrier has plans to expand to a handful of other major markets later this year, but that still leaves everyone else with that aforementioned flimsy old 3G.
Plus, the EVO 4G will be available only on Sprint — so if you're in an area where network coverage is spotty, you'll be out of luck. The Nexus One, on the other hand, will soon be available on all major carriers, giving you greater choice in the data-providing department.
Which phone wins this category, then, truly depends on where you are and how the carriers' coverage compares for your specific area.
HTC EVO 4G vs. Nexus One: The Hardware
The HTC EVO 4G is powered by the same chip as the Nexus — that snazzy-sounding 1GHz Snapdragon processor — so there's a virtual tie in that department.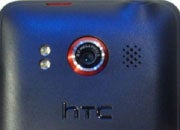 When it comes to cameras, the HTC EVO 4G is victorious: Its back has an 8-megapixel camera and its front features a 1.3-megapixel one. The Nexus One, in comparison, has a single 5-megapixel photo-snapper.
HTC EVO 4G vs. Nexus One: The Body
The HTC EVO 4G is slightly larger than its Google-endorsed cousin (4.8-by-2.6-by-0.5 inches, compared to 4.69-by-2.35-by-0.45 inches). It's about 1.4 ounces heavier, too.
A deal-breaker? Unless you're Thumbelina, probably not.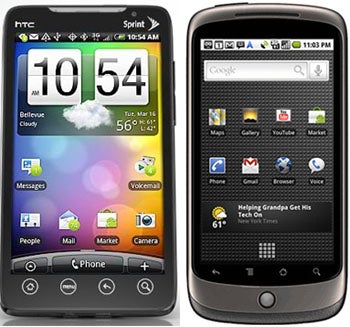 HTC EVO 4G vs. Nexus One: The OS
Both the HTC EVO 4G and the Nexus One are running Android 2.1, the latest version of Google's mobile operating system. Despite the matching versions, however, the user experience will be quite different on the two phones.
The reason is that the HTC EVO 4G runs HTC's Sense user interface, while the Nexus One uses the stock Android interface. The Sense interface gives Android an entirely different look, with specialized home screen widgets and custom navigation tools. As far as which is better, it's really just a matter of personal preference.
One area where the Nexus One's setup will have a distinct advantage, though, is in future Android upgrades: Given the fact that the phone is running the stock Android interface, updating it to a new OS version will be a simple and likely delay-free process (the fact that the Nexus One is Google's baby probably won't hurt, either). Custom interfaces such as HTC's Sense tend to take more time to update, as the manufacturer has to rebuild the interface around the revised platform.
HTC EVO 4G vs. Nexus One: The Data Perks
Sprint is billing the HTC EVO 4G as a mobile hotspot, meaning you can connect up to eight Wi-Fi-enabled devices to the phone and use its data connection to get them on the Internet.
It's not difficult to set up tethering on any Android phone (even if some carriers may discourage it). Still, this built-in multidevice functionality is certainly a perk worth considering.
HTC EVO 4G vs. Nexus One: The Final Judgment
Ultimately, the truth is that there'll never be an end-all Android phone; it really comes down to what's right for you. Given the nature of the platform's open ecosystem, a new contender will always be right around the corner, and hyperbole-loving bloggers will always be chomping at the bit to label it the "killer" of everything else.
That, my friends, is the one thing you can count on.
JR Raphael frequently covers mobile technology for both PCWorld and eSarcasm, his geek-humor getaway. He's on Facebook: facebook.com/The.JR.Raphael
Note: When you purchase something after clicking links in our articles, we may earn a small commission. Read our affiliate link policy for more details.